For background on this particular project, please visit Stop Giving Away the Shop.
Situation …
Our client is the retail arm of its parent company, and uses the parent's products – along with those from other vendors – in performing new construction and remodeling projects. Our client's line of business has been identified as a key part of overall corporate growth, and the parent was willing to invest in achieving the division's growth.
Problem …
As executives looked at how the division's five branches were doing key tasks, it became evident that processes and technology were not standard among the branches. Each type of customer had a range of acceptable profit margins, yet the pricing complexity and the need to quickly prepare and send quotes frequently resulted in pricing mistakes or margin deviations being found only after the quote was accepted. Not only was this leading to inefficiencies, it was contributing to inconsistent customer experiences and project margins – and growth would only magnify these issues.
Solution …
We were engaged to analyze the processes and technologies in use among the branches, then work with branch managers to agree upon a "best of breed" combination of process and technology that all branches would eventually use.
During our analysis, we found that quotes were being prepared using Excel and other applications, and some assumptions being used were incorrect. Product prices were housed in seven different sources – while some sources were more accurate than others, we found inaccurate prices in all seven sources. Incorrect assumptions and inaccurate prices caused margins to be below standard amounts.
The branch managers and our staff worked together to define a new web-based application that would drive all steps in the quoting process – from initial encounter to design, to quote, to accepted project, and finally to order entry. We worked with a staff member of the client's Information Systems group, and jointly designed, developed, tested, and deployed this application.
Subsequent phases are already being designed, covering logistics, project implementation, and customer feedback.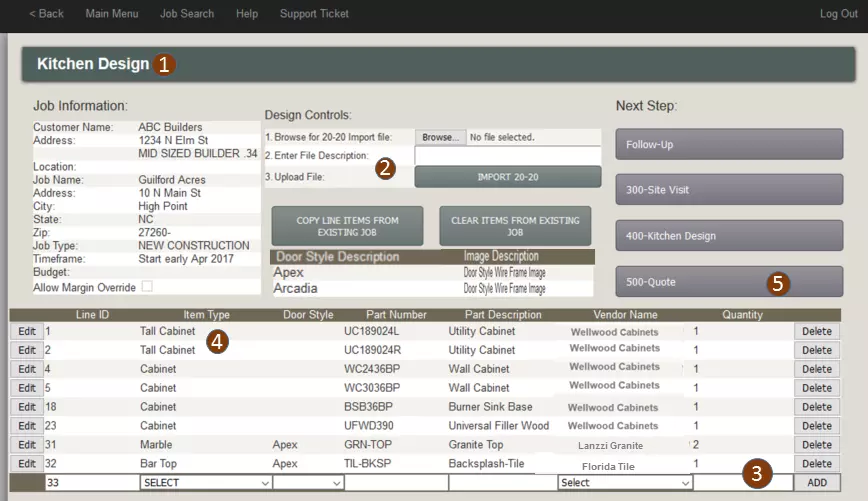 The main screen in the application brings together all key items needed to design a kitchen.

Importing the parts from the 20-20 design application helps ensure accurate quoting.

Items can be added, edited, or deleted, to fit the changing needs of the kitchen project.

Item Types are used to accumulate and evaluate costs, prices, and margin.

The Quote button allows the user to generate a PDF propsal in a specific quote format.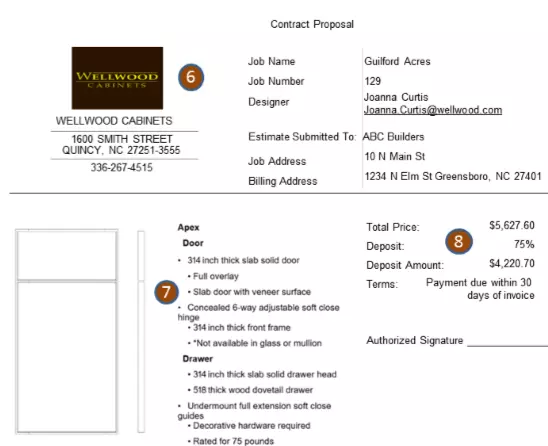 Company, job, and customer information are automatically copied and formatted.

Parts, specifications and the cabinet style diagram come from the 20-20 import

The price, down payment, and terms all conform to company-specified ranges.
Results and Benefits …
By eliminating common causes of pricing errors, and requiring executive approval for margins below standard, quotes are now being developed consistently, and most projects now adhere to standard margins. Indeed, since being deployed about 5 months ago, our client's VP of Sales and Marketing has seen consistent increases in this division's overall margins.
While performing this work, we identified other opportunities for improvement, which will be addressed in later phases of the project.
Conclusion …
Analyzing processes and technologies in use uncovered opportunities for improvement, laying the foundation for a custom web-based application already beginning to pay for itself.
For Further Information …
To discuss how this type of project could be applied to the issues facing your business, call us at 336.297.4200 to schedule a no-obligation consultation.