Recessions periodically visit us, disrupting our best-laid plans. How might we channel our current pains into long-term gains?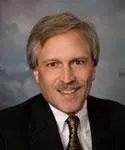 I've been writing business book reviews for the past 19 summers. In that time, I've covered 67 books (not counting 3 "fun recommendations" I've made), yet that's still just a fraction of the books that have influenced me.
Thus, I deliberately went to my bookcases to find a number of older good books to share this year. I gathered a number of candidate books, then winnowed them down to the four books for this year. I felt a common theme somehow ran through these books, yet I had a hard time putting my finger on it.
---
The Upside of the Downturn: Ten Management Strategies to Prevail in the Recession and Thrive in the Aftermath, by Geoff Colvin (2009)
This book, published in 2009, is eerily "spot on" for today's business environment! Here are the ten management strategies mentioned in the subtitle:
Reset Priorities – The critical first response to a radically new reality
Protect Your Most Valuable Asset – It's your people – yet they're often valued the least
Engage the Outside World – All your relationships are changing – so take control of the process
Reexamine Your Strategy and Business Model – The importance of knowing what you must change – and what you must not
Manage for Value – Most companies don't – an error that can be fatal in this recession
Create New Solutions for Customers' New Problems – You can do it in more ways than you may realize
Price With Courage – Don't assume you have to mark down – it's riskier than you may think
Get Fitter Faster – The right kind of operational discipline pays off powerfully in a recession
Understand All Your Risks – Seize this moment to take a broader view of what might go wrong in your business
Don't Forget to Grow Yourself – Why this downturn is a unique opportunity for self-development
As I flipped through the book, I found myself thinking, "Yep, gotta do that!" "Oh, that's a great idea." "Hmmmmm, I hadn't considered that."
This book helped me in two key ways:
It validated many of the steps my staff and I have taken to reduce our cost structure, such as replacing higher-priced, lower-functionality services we use with lower-priced, higher-functionality offerings. We've done this in several areas – most notably our email security service, the tools we use to create and launch our monthly e-newsletter, and the company handling our payroll service.
It gave me numerous ideas to add to my "To Do" list, especially in the business development arena.
Two key points for business managers:
"Good times can conceal a lot of sins; when the economy is growing fast, your performance is probably attractive almost any way you look at it." (page 88) – A year before this book was published, I made a similar point about strong revenues hiding weaknesses and threats in Rafting When the Water is Low, an article worth revisiting.
"The big picture from this [McKinsey] research is clear: the most successful companies play offense, not defense, during a recession." (page 125) – To me, while any action is risky during a recession, inaction is even riskier, for reasons I explain in The ROI of Doing Nothing.
Bottom Line – A good book for any executive or manager responsible for a company, a service line, or even a department.
---
Do More Great Work, by Michael Bungay Stanier (2010)
The premise of this book is simple: Review the work you do and divide it into three types – Bad, Good, and Great – and then develop a plan to change the relative mix of work to something more satisfying.
This is a "how to" book, providing a number of "maps" – fill-in-the-blank pie charts, tables, and checklists – to help you determine your starting point, explore what might be Great Work for you, assess opportunities to do more Great Work, choose and define a Great Work project, and then launch and pilot your project.
Note that Great Work is not limited to the workplace – it can apply to any part of your life, as shown in Map 5, "What's Calling You?"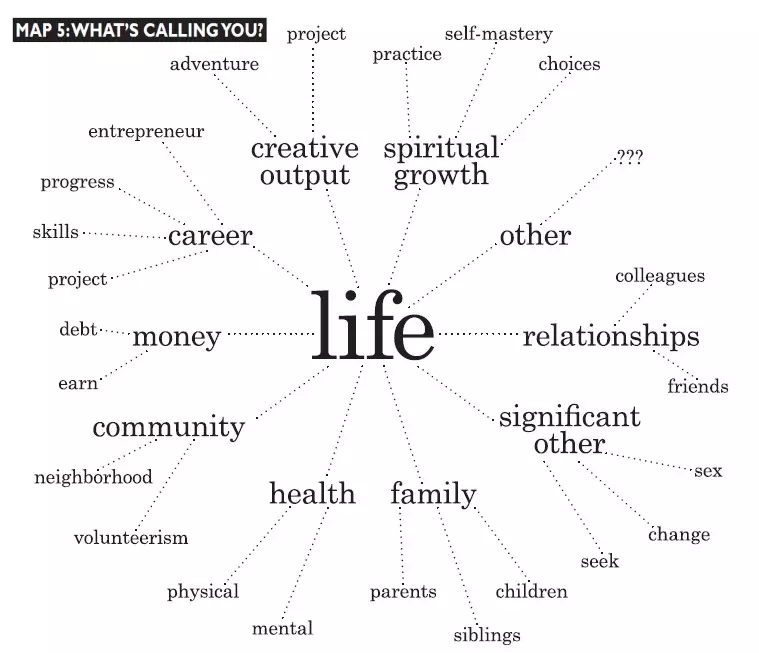 While the book's contents are ordered in a start-to-finish process, the author also offers Map 15, "Lost Your Great Work Mojo?" to help you to jump straight to where you need the most clarity: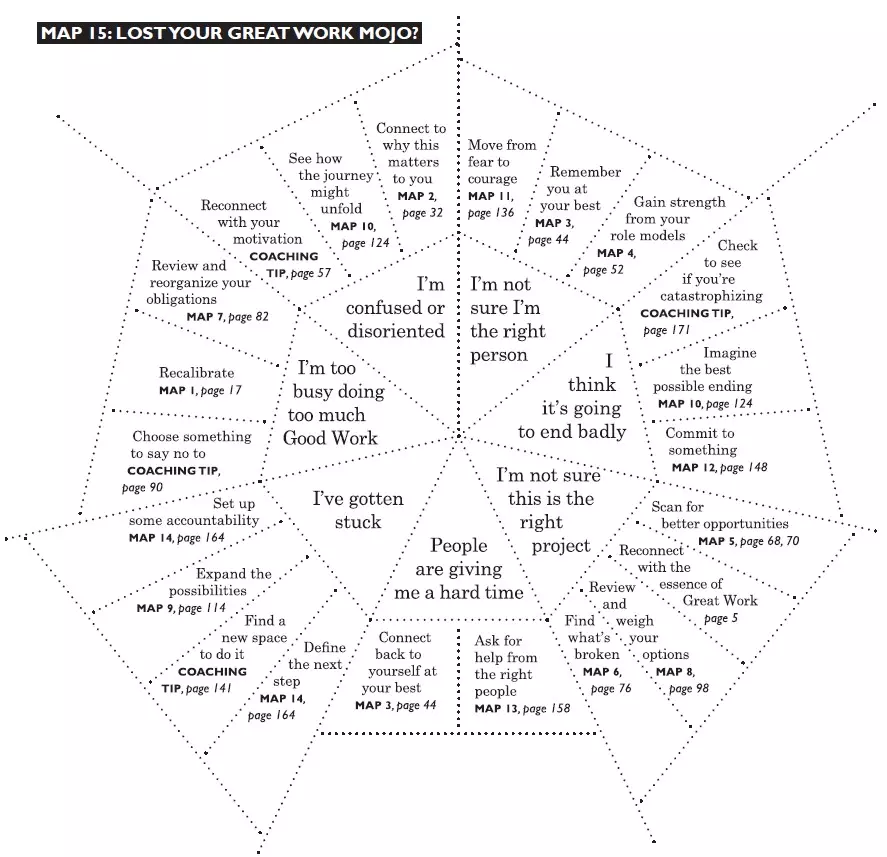 (The clever book, unstuck: A Tool for Yourself, Your Team, and Your World, provides a similar diagram to help you find what you need and go straight to that part of the book.)
This book is very relevant, especially given a couple of recent articles describing questions about "worth" and "purpose" being asked in the work force:
Bottom Line – For any person questioning the satisfaction they get from their job – or any other part of their life – this book may help them clarify feelings, identify options, and map a path to greater meaning.
---
The Dip: A Little Book That Teaches You When To Quit (And When To Stick), by Seth Godin (2007)
In what truly IS a little book (88 pages, sized 4.75 inches by 7 inches), Seth Godin describes the relationships between "Effort" and "Results" using three curves:
Curve 1: The Dip – "The Dip is the long slog between starting and mastery. A long slog that's actually a shortcut, because it gets you where you want to go faster than any other path." (page 17) To me, this "long slog" is equivalent to "The 10,000-Hour Rule" made famous in Malcolm Gladwell's outstanding book, Outliers: The Story of Success.
Curve 2: The Cul-de-Sac – "The Cul-de-Sac (French for "dead end") is so simple it doesn't even need a chart. It's a situation where you work and you work and you work and nothing much changes. It doesn't get a lot better, it doesn't get a lot worse. It just is." (page 19) This is, as one of my college hallmates would have said, "like hitting your head against a dead wall." The wall doesn't change, and all you get is a headache.
Curve 3: The Cliff (Rare But Scary) – "The pain of quitting just gets bigger and bigger over time. I call this curve a Cliff – it's a situation where you can't quit until you fall out, and the whole thing falls apart." (page 21) Seth likens this to cigarette addiction – pleasurable, until lung cancer or similar condition gives you a wake-up call to quit.
Two diagrams illustrate these three curves:
| | | |
| --- | --- | --- |
| | | |
| (page 17) | | (page 22) |
The key point – only one of the three curves leads to success and, if you find yourself on either of the other two, you need to quit that path and start doing something else.
The goal of getting through the "long slog" of the Dip is to be the "best in the world." This does not mean being the absolute best of the thousands or even millions of people who may be doing something similar to you – unless, of course, you aspire to win Olympic gold. In the book:
Best means "best for [people comprising your target market], right now, based on what they believe and what they know." (page 10)
The World means "their world, the world they have access to." (page 10)
Factors such as price, current availability, and location all serve to narrow "Best" and "The World" so you genuinely can be the "best in the world" for your target market.
I've had Todd Herman Associates (THA) for nearly 31 years. In that time, I've been through numerous ups and downs. Each down time, I wondered whether it was time to call it a day and move on to something else. Fortunately, I never made a decision on the future of THA or myself when I was feeling discouraged – and this is a point Seth makes, saying "The decision to quit is often made in the moment. But that's exactly the wrong time to make such a critical decision." (page 67).
I always felt things would get better, I focused on what I could control, and I believed in my long-term strategy of helping companies improve their business results via process improvement and technology usage – thus, I endured the short-term pain doing the hard, yet essential, work of reinventing THA and myself. In other words, I always assessed I was in a Dip, so I always worked to get through the long slog as best as I could.
The book describes the tension between short-term pain and long-term gain this way – "Short-term pain has more impact on most people than long-term benefits do, which is why it's so important for you to amplify the long-term benefits of not quitting." (page 53) There's actually a word for this – akrasia.
Put another way – on the road to 10,000 hours, the Dip is when things will get tough and when they do, most people will give up because of short-term pain instead of pushing through for long-term gain.
Right now, things once again look tough, yet I know they will get better – so, once again, I believe this is just another Dip I can slog through by sticking to my long-term strategy, yet quitting tactics that no longer work and trying new ones that might.
Bottom Line – This book helps you assess whether to STICK with what you're doing because the results are likely worth it (The Dip), or to QUIT what you're doing because there's little (The Cliff) or no (The Cul-de-Sac) results to be had, regardless of effort.
---
Life is good. Simple Words from Jake and Rocket, by Bert Jacobs and John Jacobs (2007)
Most everyone has seen a "Life is good." T-shirt. These are typically muted earth-tone colors, with a simple cartoon – usually consisting of Jake and occasionally including his dog Rocket – and a short, uplifting message.
In case you haven't, here are a couple examples from this book: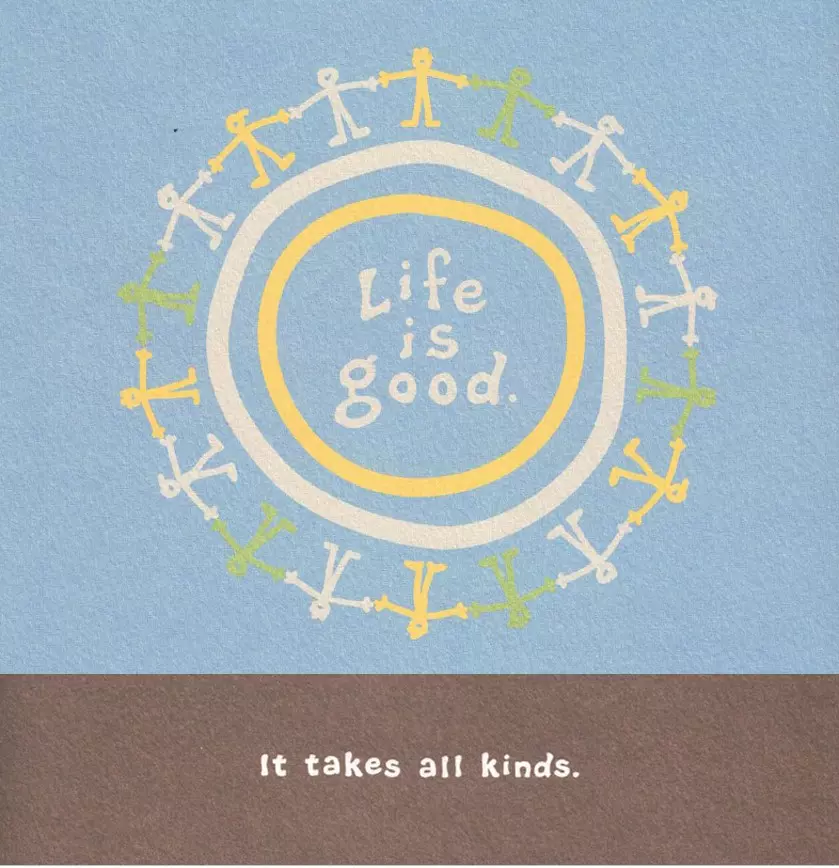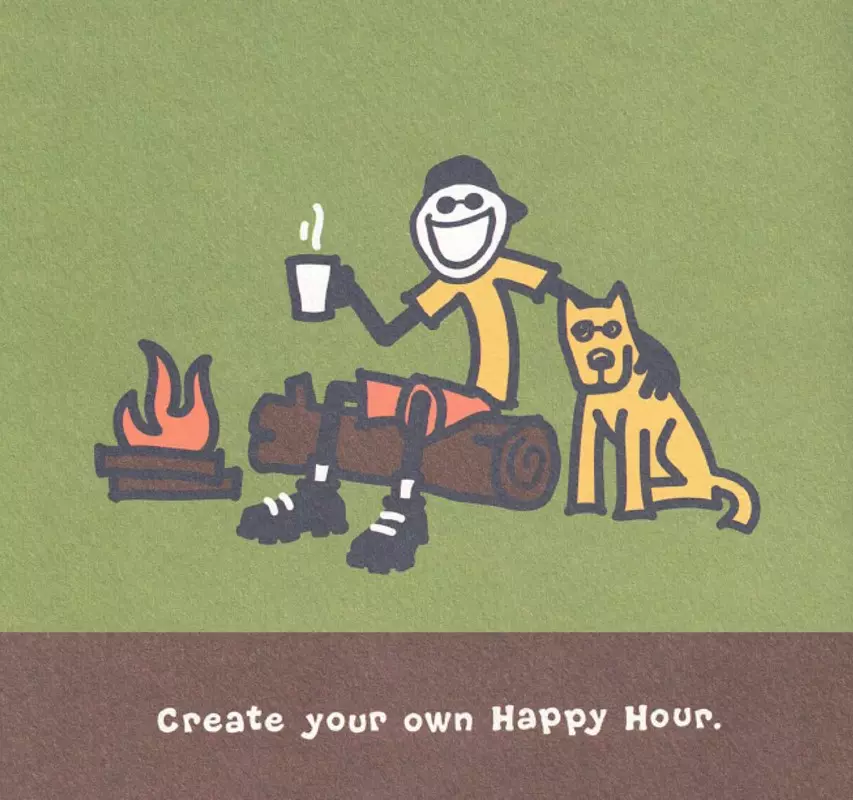 Life is good. is the creation of two brothers, Bert and John Jacobs, intended to promote optimism and spread "good vibes all over the world."
Bottom Line – Given everything that has happened in the US and around the world recently, I believe we could all use a regular boost of optimism, as served up in this book.
---
The Theme – Helping Us Navigate Unprecedented Times
I like to have a "theme" to organize each year's books. While a theme was not initially apparent when I selected these four books, one became clear once I reacquainted myself with their content – they all help us navigate unprecedented times.
Each of these books is at least a decade old and all were written just before, during, or shortly after the Great Recession of 2007 to 2009. Even so, their concepts can be applied now to help us:
Look at our areas of responsibility, with the goal of getting through and coming out stronger.
Assess and triage tasks we're doing.
Decide whether we're in a Dip, or on a path going nowhere.
Keep a sense of humor and optimism as we mush onward.
While these books provide techniques to help us get through challenging times, their larger message is this – There have been unprecedented times before and we've gotten through them, and we'll also get through this one.
Challenging times. We've all "been there, done that, got the T-shirt" – just like these four books.
Sincerely,

Todd L. Herman
PS – I've always liked the title of Billy Joel's first live album, Songs In The Attic. The cover art does a great job summarizing the album's premise – to introduce audiences who first heard of him via his breakout album, The Stranger, to his little-known earlier work. This premise inspired me to rummage my bookcases, searching for the print equivalent of "songs in the attic" – older books I liked, yet had never reviewed.