2007 Summer Book Reviews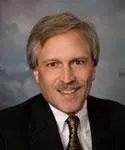 In the spirit of continuing a tradition from July 2005 and June 2006, I am sharing some books that I have found helpful and useful in the past 12 months. In prior years, these books have been business books – this time, I thought I would take a different approach.
My clients tell me one thing they really value is my creativity – indeed, many of you tell me you read this e-newsletter because I creatively share interesting or new concepts and describe techniques we've used to help our clients.
The challenge is to constantly be creative – and I have found that my source of creativity occasionally needs to be replenished. Here are a few books that I have found instrumental in this critical task – and, following tradition, I'm including a bonus book in a different vein, but still an excellent read.
So, hit the bookstore and take these gems with you on vacation! You just might return with a renewed and creative mind, which will energize your work and your life!
Sincerely,

Todd L. Herman
---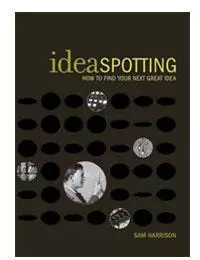 ideaSPOTTING: How to Find Your Next Great Idea, by Sam Harrison, is a wonderful collection of short thoughts, sidebar comments, diagrams, photos, and short written exercises such as "fill in the blanks." The book begins:
be an IdeaSpotter.
NOT A TRAINSPOTTER

"Trainspotter" is British slang for a dull, obsessive guy whose hobby is standing for hours on station platforms, meticulously recording the serial numbers of train cars passing by. ...

Rather than record engine numbers,

IdeaSpotters capture ideas. Lots of ideas. ... IdeaSpotters are over here one day, over there the next. Exploring new places. Making new connections. Uncovering new insights.
This little book makes good on its big claim: Through its content and creative layout, it "puts you in touch with IdeaSpotters" – persons widely recognized for their original thinking.
---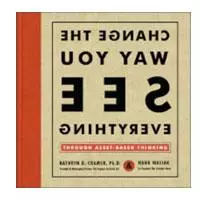 Change The Way You See Everything, by Kathryn D. Cramer, PhD and Hank Wasiak, is built around the theme of "Asset-Based Thinking." The creative images and section titles alone make this book interesting and entertaining. In fact, I used one of them (with appropriate credit) as the title of our very popular February 2007 e-newsletter, focus + distance = clarity. In the book's introduction, the authors describe differences between "deficit-based thinking" (DBT) and "Asset-Based Thinking" (ABT) – one description uses a series of phrases that reflect DBT versus ABT. A few excerpts are:
| | |
| --- | --- |
| DBT Message | ABT Message |
| Not this again... | At least I know how to deal with this. |
| Watch out! | Heads up! |
| Why didn't you... | What was in your way? |
| What won't work! | What could work? |
Next come a series of essays, true stories, quotes, photographs, and visioning exercises designed to promote its 3 main themes:
Change the Way You See Yourself
Change the Way You See Other People
Change the Way You See Situations
A creative book, and a handsome example of innovative page layout and printing!
---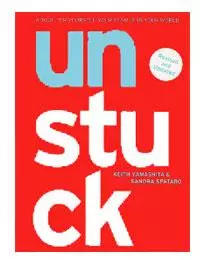 unstuck: A Tool for Yourself, Your Team, and Your World, by Keith Yamashita and Sandra Spataro, PhD, is what I consider to be a web site on paper – pages are organized in not only a linear fashion, but contain what I call "paper hyperlinks" to related topics and page numbers. The book is organized as a diagnostic:
"Step 1 – Admitting You're Stuck. (Or how to recognize the symptoms.)" This section gives you 5 blank pages to journal on a series of questions, congratulates you on being stuck, tells you that you're not alone, and describes the likely sources of imbalance in your organization.
"Step 2 – Diagnosing Why You're Stuck. (Or how to get at the root causes.)" This section describes "The Serious Seven" root causes of being stuck – Overwhelmed, Exhausted, Directionless, Hopeless, Battle-Torn, Worthless, and Alone – and concludes with suggested paths through the balance of the book to address each root cause.
"Step 3 – Getting Unstuck. (Or what you can do right now.)" The meat of the book, this section is comprised of 1 or 2 pages devoted to each topic – each topic contains text, images, questions for further thought, and jumps to multiple related topics.
This is a fun book to use, because you find numerous insights as you're flipping from page to page looking for the next hyperlinked page. This book offers helpful guidance toward real answers to complex situations.
---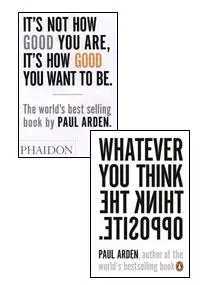 Whatever You Think, Think the Opposite and It's Not How Good You Are, It's How Good You Want to Be are both by Paul Arden, following the same format – devote 1 or 2 pages on a topic, with a clever title, short and pithy text, and a catchy photograph or graphic element illustrating – and often interwoven with – the text. Quotes from both books were featured in our August 2006 e-newsletter, Bridging "creativity" and "experience": Insights at 17 Years – The first book encourages you to take risks and even be willing to make bad decisions – and then receive more creative insights, just by having taken action. The second book is ostensibly about excellence in creative advertising – but is really about using creativity in any business practice.
---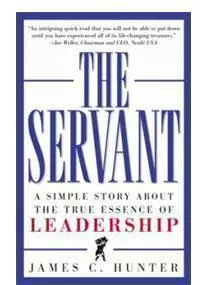 The Servant: A Simple Story About the True Essence of Leadership, by James C. Hunter. This "bonus" book is one that defies easy categorization in the bookstore. While Barnes & Noble shelves it under "Leadership/Management," it could just as easily be shelved in the "Faith" section. The premise is this – John Daily, a middle-aged plant manager, is having trouble at work and at home, and reluctantly follows a suggestion to attend a weeklong retreat at a remote monastery on Lake Michigan. The monk leading the retreat, Simeon, is a former legendary Fortune 500 executive – who dropped out of business life several years ago. Told in the form of a "management fable," this is a work of fiction – yet, the author weaves in his experience consulting on team building and servant leadership, and its main setting is an actual monastery in Indiana where the author researched monastic life. The Servant clearly and concisely describes the essence of servant leadership – the linkage of love and leadership. Highly recommended for anyone interested in leadership – or anyone interested in answering the call of servant leadership in the workplace, as articulated by Pastor D. Michael Bennethum:
"As we engage in the responsibilities of our daily roles, we embody the values of our faith. We build up the lives of those who are served by our actions. We win little victories for justice by the way we treat those who cross our paths."

–"Take your faith with you" in The Lutheran, July 2007