Creativity, like humor, just happens – or does it?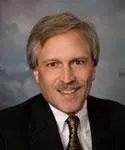 I'm VERY picky about the business books I choose to read. I must be interested in the book's content, engaged by the author's writing style, and impressed with techniques – such as a table of contents, subsections and subheadings, section and chapter recaps, charts and other visual elements, and an index – making the book easy to use.
As I do each June, I'm using this e-newsletter to suggest several business books for your summer reading list. This year, I'm recommending four books, selected from a field of nine candidates, that checked all the right boxes with me. As much as I liked certain aspects of the five that didn't make the cut – and I really WANTED to like one of them – they just didn't have enough of what I need from a business book. For a more detailed look at how I judge a business book, see How to "Read" a Business Book and What to Look For In a Business Book.
You've probably heard the business maxim, "Nothing Happens Until Someone Makes a Sale." That's not wholly true – the sales rep has nothing to sell until someone's idea is turned into a product or service. Ultimately, "Nothing Happens Until Someone Has an Idea" – and that idea comes from creativity. This year, the overriding theme for all four books is – creativity!

The Accidental Creative: How To Be Brilliant at a Moment's Notice, by Todd Henry (paperback edition, 2013)
Establishing the practices to become more creative.
Are you a "creative"? In this thought-provoking book, the author defines two types of creatives.
People designing, writing, painting, sculpting, composing or playing music, acting, and doing similar types of work – such people, ones whose chosen career allows them to exercise their creativity talents daily – are traditional creatives.
People "solving problems, developing strategies, or otherwise straining your brain for new ideas" (page 1) – people such as managers, salespersons, customer service representatives, and consultants who think or bring ideas to life for a living may not consider themselves "creatives" – are what the author calls accidental creatives.
Fortunately, whether you're a traditional creative or an accidental creative, this book is for you. (The book's companion web site references a podcast of the same name.)
In the preface, the author states "there is no formula for creativity; there are only things that will increase your likelihood of having ideas when you need them. ... To have a brilliant idea at a moment's notice, you must begin far upstream from the moment you need that idea." (pages vii-viii)
This is entirely consistent with my experience in 16 years of writing this monthly e-newsletter and never missing a deadline. Even if it's near month-end and I don't yet have a topic, I decide on an idea I can run with and find a way to develop it quickly.
The author's goal is to help readers build a "creative rhythm" into their daily work life through his FRESH process:
F

ocus – Zeroing In On What's Critical

R

elationships – Being Brilliant Together

E

nergy – Your Invisible Ally

S

timuli – What Goes In Must Come Out

H

ours – They're The Currency of Productivity
Practices for each area – such as "Challenges," "The Big 3," and "Clustering" for Focus – are listed and explained, and are then incorporated into helpful weekly, monthly, and quarterly checkpoint exercises at the end of the book.
Even though my creative practices – outlined in 23 Ways to Be Indispensable – have been well-honed over the years, this book provided me with many new insights on the creative process and several new practices I plan to apply.
Bottom Line – An excellent book for anyone whose livelihood requires creativity. In our society, that's a large percentage of the population, and most likely includes everyone reading this e-newsletter.

The 1-Page Marketing Plan: Get New Customers, Make More Money, and Stand Out From the Crowd, by Allan Dib (2021)
Making marketing understandable and practical.
As Zig Ziglar famously said, "Money isn't everything ... but it ranks right up there with oxygen." Allan Dib's book starts off with a BANG, quickly states the book's goal – to provide "the fastest path to the money" (page 5) – and then delivers, Delivers, DELIVERS on this goal over the next 220 pages.
This is an incredibly practical and usable book! I was skeptical that a marketing plan could fit on one page, yet the author won me over by distilling each of 9 topics to their essence, and then clearly explaining and illustrating how to implement each topic. These 9 topics cover the 3 phases of the "Marketing Journey."

There is also a companion web site ( www.1pmp.com ) with several helpful free resources, including a "canvas" – blank template – to create your own 1-page marketing plan, along with this excellent visual depicting the overall marketing lifecycle: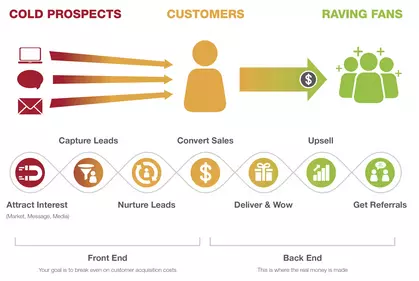 This book helped me in one area that's always bedeviled me – how to concisely describe my firm's services and benefits in interesting, jargon-free language.
Bottom Line – The 1-Page Marketing Plan has become the fifth book in my all-time "Favorites" list of business development books – no small feat!

Sprint: How to Solve Big Problems and Test New Ideas in Just Five Days, by Jake Knapp with John Zeratsky and Braden Kowitz (2016)
Testing an idea quickly.
What do you do if you have a new idea to test, yet actually taking it through your company's software development or product development process would be too costly or not yield the desired results quickly enough? This book provides an excellent answer to that question and a graceful solution to that problem.
A "sprint," as described here, is a ...
... unique five-day process for answering crucial questions through prototyping and testing ideas with customers. It's a "greatest hits" of business strategy, innovation, behavioral science, design, and more – packaged into a step-by-step process that any team can use. (page 9)
The team for a sprint consists of no more than 7 carefully chosen individuals representing the domains required to successfully create, launch, and support the product or application – that is, of course, assuming the sprint validates the idea being considered. The domains include representatives from Executive Team, Product Management, Finance, Marketing, Sales or Customer Support, Technology or Logistics, and Design.
This illustration from the book's companion web site ( www.thesprintbook.com ) shows the day-by-day sprint process.

A few comments about the terms in the diagram:
Map visually depicts customers moving through the service or product being considered. This is the same as a Customer Journey Map developed by Stanford University's d.school.
Target refers to

one target customer

and

one target event

on the map, with this combination driving all subsequent work during the sprint.
Sketch does not require artistic talent – ideas on sticky notes or doodles on chart paper suffice to capture the essence of possible solutions.
Prototype is not a working product or application – it is just a facade that mimics how a target customer would interact with one or two key aspects of the solution being considered. For example, if a new web site is being considered, a site does not need to be constructed – instead, use tools like PowerPoint or Keynote to quickly mock up the screens and results the customer would see.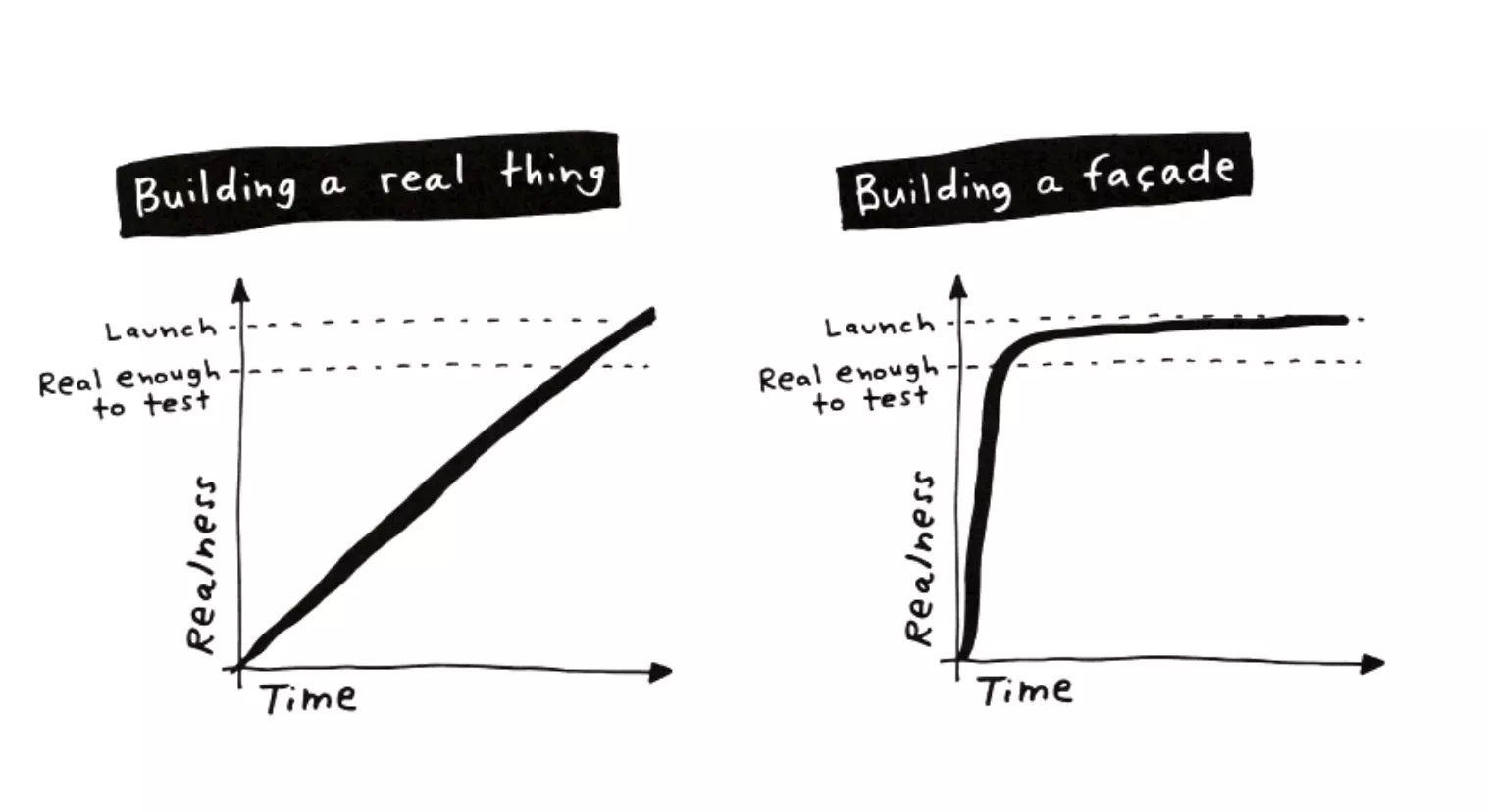 What most surprised me about the five-day sprint process – each day only requires six or seven hours, allowing time for a one-hour lunch and brief morning and afternoon breaks.
Bottom Line – This book is a good read, just to learn about the sprint process and how some real products and services, such as Savioke's Relay Robot and Slack, were brought to life. (BE SURE to take 60 seconds and watch the ENTIRE video at the top of the linked Savioke page – Savioke's sprint uncovered and validated the guest reactions shown!) When it's time to actually run a sprint, the step-by-step process and excellent checklists are invaluable.

Humor, Seriously: Why Humor is a Secret Weapon in Business and Life* (* And How Anyone Can Harness It. Even You.), by Jennifer Aaker and Naomi Bagdonas (2021)
Building your humor muscle.
Have you ever worked for a company where you felt you had to walk on pins and needles because it was so solemn and serious? Fortunately, I haven't, although a couple of friends have worked in such an environment.
That "walking on pins and needles" environment perfectly illustrates "The Humor Cliff" the authors describe in Chapter 1. Visually, this is the Humor Cliff: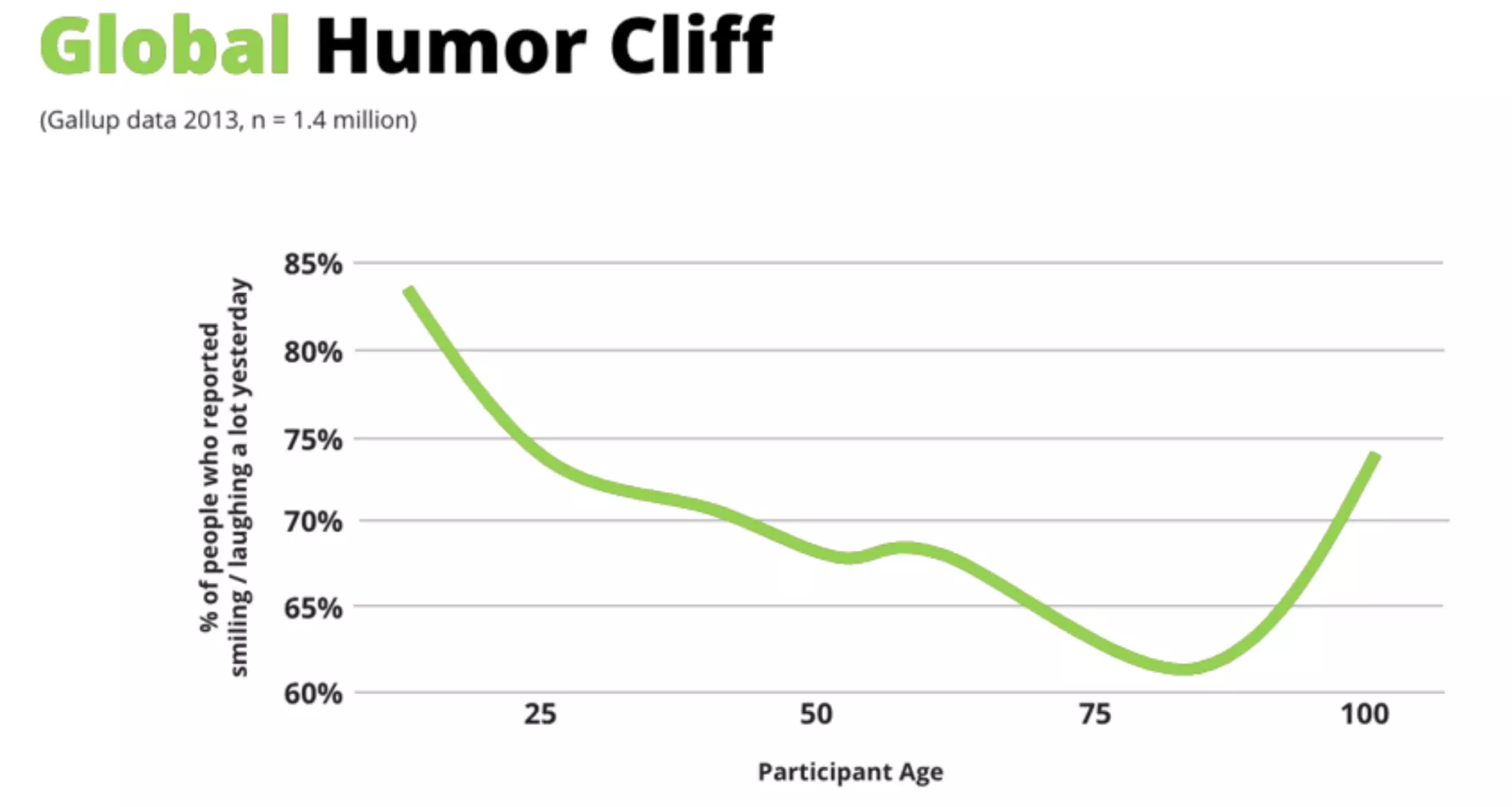 Key stats cited by the authors related to this collective loss of humor:
The chart above plots answers from a Gallup poll of 1.4 million survey respondents in 166 countries who reported smiling or laughing a lot the previous day. The frequency with which we laugh or smile each day starts to plummet around age twenty-three.
The average four-year-old laughs as many as 300 times per day.
The average forty-year-old, by comparison, laughs 300 times every two and a half months – or about 4 times per day.
The antidote to the Humor Cliff? More levity and humor at work!
The first chapter explains the four Humor Styles – Magnet, Sweetheart, Stand-Up, and Sniper – then directs you to the book's website ( www.humorseriously.com ) where you can assess your own Humor Style for free.
The Magnet has an ability to boost people's moods with good cheer, and keeps things warm and uplifting.
The Sweetheart is earnest and honest, preferring a subtle laugh line planned and strategically placed in a presentation.
The Stand-Up is a natural entertainer who isn't afraid to ruffle a few feathers for a laugh.
The Sniper is edgy and sarcastic, considering their humor as an "acquired taste" delivered in a dry manner.
In case you're wondering – my style is Magnet, followed closely by Sweetheart. (Yep, I was surprised, too!)
The rest of the book covers topics to help improve your individual levity and humor, so we can collectively increase levity and humor in the workplace.
Your Brain on Humor (Chapter 2) – When we laugh, our brains release hormones that make us feel happier, more trusting, less stressed, and even slightly euphoric – and this leads to increased influence with colleagues, improved bonds with coworkers, better creativity, and enhanced resilience.
The Anatomy of Funny (Chapter 3) – The chapter discusses two basic principles of humor – At the Heart of Humor is Truth, and All Humor Contains Surprise and Misdirection – then describes various practical techniques to "Find the Funny" and "Form the Funny."
Putting Your Funny To Work (Chapter 4) – The goal here is not to tell jokes or be funny – rather, it's to make more human connections during everyday moments. The authors provide numerous examples of how to do this, including one called "Seize the OOOpportunity" for those who want to spice up their Out Of Office message!
Leading With Humor (Chapter 5) – High-trust organizations innovate and perform better than organizations with low trust, so it's up to leaders and managers to create a trusting environment. This chapter provides Dos and Don'ts on how to go about this.
Creating a Culture of Levity (Chapter 6) – This is an extension of the previous chapter – however, that one focused on the process of leading with humor, while this chapter deals with the personal qualities and behaviors a leader needs to possess and demonstrate to create the desired culture.
Navigating the Gray Areas of Humor (Chapter 7) – The main gray areas – a joke that rubs people the wrong way (Life Cycle of a Humor Fail), thinking you're funny when maybe you aren't (Am I Funny?), and what to do if you're the boss (The Unspoken Rules of Being the Boss) – can be summarized in three illustrations from the chapter: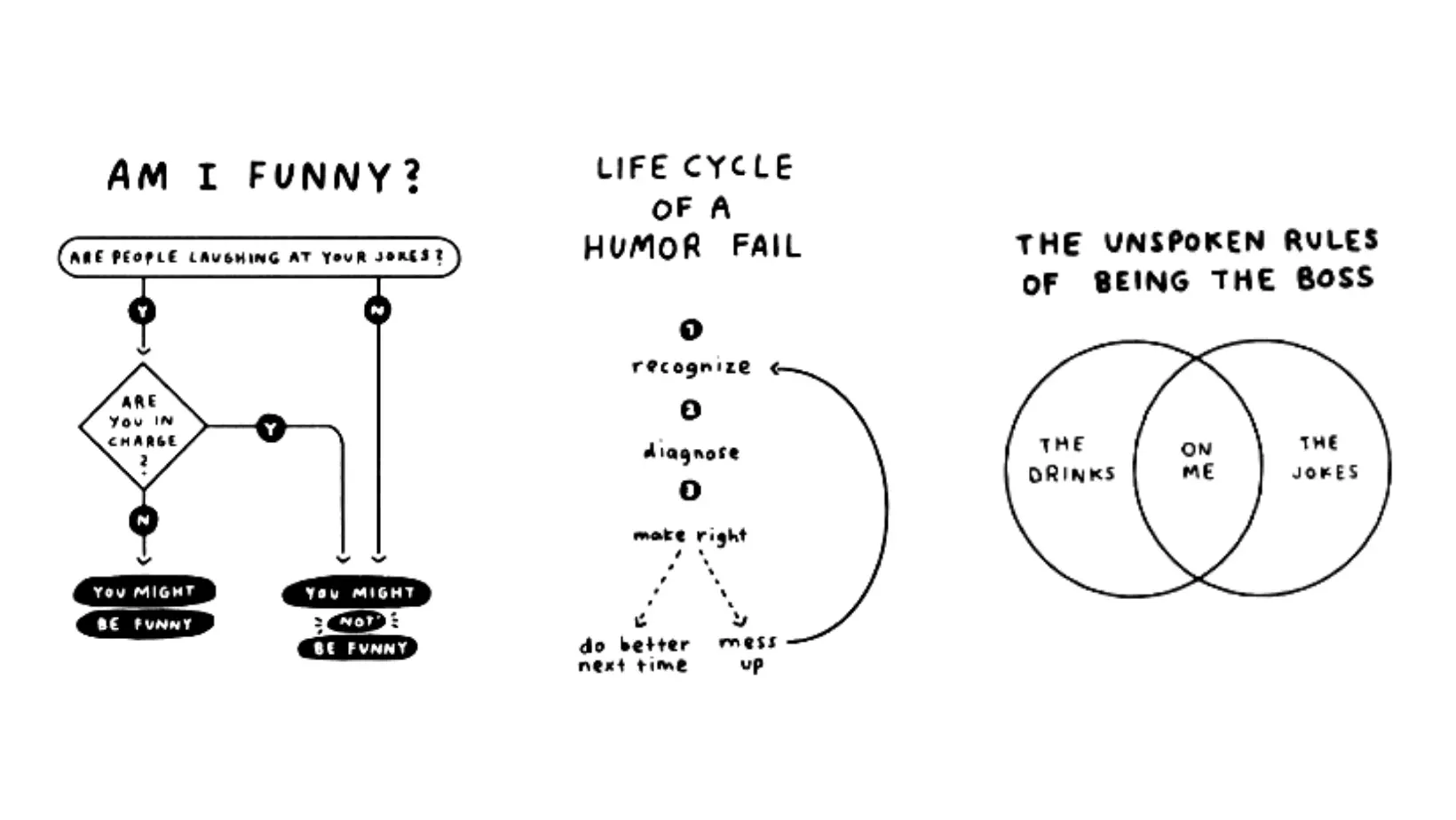 Why Humor Is a Secret Weapon in Life (Chapter 7.5) – Humor contributes to a fulfilling life, so the book ends with thoughts and quotes on five aspects of a life well lived – Boldness, Authenticity, Presence, Joy, and Love – each accompanied by a quote from a famous comedian.
One thing I especially liked was the authors' access to my two favorite late-night comedians, Seth Meyers and Stephen Colbert, who make the hard work of comedy seem effortless. Seth – whom the authors describe as "one of the sharpest (and downright nicest) people in comedy" (page 69) – and the show's 16 writers will have read tons of headlines and stories, and crafted OVER 100 jokes for JUST his 5-minute opening monologue. From these, ONLY 12 will ultimately air!
Bottom Line – This book weaves together research underlying, and practical tips for applying, humor in the workplace in an informative – and entertaining – manner.
In Closing
"Making Something Happen" (or MSH, as we abbreviate it at Todd Herman Associates) is what business and life are all about – and creativity is an integral part of MSH. These books will help you develop your general creativity, turn your marketing ideas into money, test ideas quickly and practically, and appropriately bring levity and humor into the workplace.
I know these four outstanding books will improve my MSH batting average, and I'm betting they will do the same for you.
Happy Summertime!
Sincerely,

Todd L. Herman