March 2013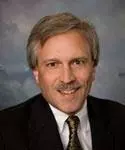 Recently, I was having lunch with a client who is responsible for all of the operations accounting for several business units. Each unit has its own system for managing its operations. Top executives had decided to migrate all the disparate systems to a common platform – a perfectly reasonable decision to reduce systems maintenance costs. The issue? The common platform was well-tailored for some areas of the business, while it was a poor fit for several other areas.
My firm has worked with one area of the business for many years, and we are intimately familiar with both the business operations and the system to be migrated. My client's comment was, "I'm going to make sure Todd Herman Associates is involved in planning this migration. I feel much better about having you guys do this, than the firm the executives normally tap. Those other guys? They'll only look at things at a surface level – and I know you and your folks will actually get in there, look at the details, flush out the issues, and make sure they're addressed." Wow, I just love to hear comments like this!
Deliver or Communicate Value?
What my client wanted were people whose core competency is actually DELIVERING value, versus a firm where COMMUNICATING value trumps getting things done. Please don't get me wrong - both delivering and communicating value are important. Yet, I believe, given a choice, clients prefer getting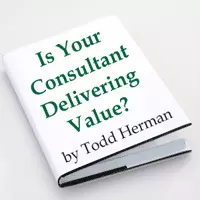 great results with plain communications, versus getting fancy communications and only marginal results.
What are some tell-tale signs a firm might be better at communicating value than delivering it?
Do they spend more time telling you what they can do, or more time asking questions and understanding your needs?
Do they send you a glossy proposal, or a no-nonsense document describing what will be done?
Do they end the project with a fancy presentation, or with a "Thank you for your business – we've trained your folks and turned things over to them, and we'll touch base to see how things are going"?
Do they come from far away and thus will incur a lot of travel and per diems, or are they local? (The joke among consultants is this – the higher the fee you want, the more you need to be willing to travel to get it. It's only funny because there is quite a bit of truth in it.)
Historically, we have been much better at delivering value than communicating it. Indeed, one of the firm members recently shared an observation – "Most consultants are better at pulling together presentations to tell clients what they did than they are at actually getting the work done. For us, it's exactly the opposite – we deliver a lot of value, yet don't toot our own horn."
How very true! We have always taken a very practical approach to our work – getting things done as quickly, efficiently, and quietly as we can. We have always emphasized HOW we will help the client improve their business – we focus on problem-solving, not problem-communicating.
Communicating Value Can be Difficult
Solving a problem does deliver value for a client – and we've always assumed communicating this value is self-evident. "See, your problem is now solved – voila, that's VALUE!" Does such an approach truly communicate value? No, not really. Thus, one of our key goals in 2013 is to better communicate our value to a company.
We've started doing this with several recent client projects, and are finding it somewhat hard to do. After all, our deliverables are intangibles – improved business processes, and new or enhanced software underpinning these.
For some projects, communicating value is fairly easy – overhauling the process and technology to reduce errors in the billing process can be quantified, and its value will be shown in faster cash flow.
For some projects, getting a handle on the value is murky. For a data warehouse, how do you quantify the value of transforming information into insight? Where executives and managers move from asking "What happened?" to "Why did it happen?" Where the systems move from providing an alert about a problem to suggesting an action to address it? Everyone agrees there is value in each of these benefits, yet the value is incredibly hard to quantify.
Nonetheless, we're approaching the challenge of communicating value the same way we've faced other challenges – rolling up our sleeves, digging deep to identify the value we created, and working hard to get this down to a one-page document. We're already getting better at this process, and we will soon be as proficient at communicating value as we are at creating it.

Todd L. Herman
---
Client Project Update:
I am pleased to provide you with an update on our client projects. Projects we have completed over this period are...
Enhance Scheduling and Closing of Jobs
Researched and resolved issues in the ERP system causing completed jobs not to be fully closed out for Operations and Accounting, helping our client improve the integrity of their ERP system.
Replace an Outdated Operations Reporting System
Continued to design the databases, processes, forms, and reports for a new operations system, and began to oversee the application development to implement these, helping a growing restaurant chain implement a new system to collect and report key metrics on a daily basis.
Address Messaging Systems Migration
Issues Worked with our client to assess and resolve various issues uncovered during a transition to a hosted messaging system, keeping client and hosting vendor personnel on track to meet a tight timeframe.
Analyze Data to Enhance Revenues
Analyzed the records of several municipalities against those of utility companies providing services to identify additional franchise tax, resulting in greater revenue for the municipalities.
Manage Vendor and System Selection Process
Managed demonstrations by the two final vendors, selection of the final system and vendor, and negotiations with the selected vendor, guiding our client through an ERP selection process based on identified unique business requirements.
Analyze Problem Accounts for Root Causes
Redesigned and implemented revised workflow processes to enlist the support of over 1,000 personnel in this large-scale project to resolve numerous issues across multiple processes, and monitored progress on this project, helping our client quickly deploy personnel to unclog stalled orders, billings, and rejected billings totaling several million dollars.
Apply Sophisticated Reporting Logic to Specific Service Lines
Worked with highly technical client personnel to apply newly-developed reporting techniques to three specific service lines, and iteratively tested and revised the techniques to meet very specific requirements, helping our client develop a capability highly desired by their customers.
Enhance Calculations and Reporting of Operations Dashboard
Identified and designed enhancements to this sophisticated data warehouse and dashboard, refining calculations and reporting for this client's industry-specific needs.
Future projects we are planning include...
Controlling a Major Cost
Oversee the final development of a new operations system, and begin testing base functionality of this system, helping a growing restaurant chain obtain better visibility of food usage and sales, and provide a solid foundation for future enhancements.
Reducing Uncollectible Accounts
Design an application to integrate two previously separate functions - verifying health insurance coverage, and collecting payments - done by patient-facing medical technicians, reducing the likelihood of uncollectible accounts by delivering several major benefits - improved ease-of-use, more complete information, and a 10-times faster process time - to allow frontline personnel to more quickly and easily comply with company policies.
Readying a System for Deployment
Incorporate additional order processing systems into a sophisticated customized reporting system, and process the first orders through this reporting system, helping our client deliver a new tool to let customers tailor interpretative comments and presentation formats to their individual needs and preferences.
Executive Dashboard Performance Tuning
Tune the performance of key queries against, and key aggregations of, the data cube used in this sophisticated executive dashboard, based on Microsoft SQL Server Analysis Server (SSAS), with the goal of significantly reducing page load time for pages with complex analyses.
Managing Review and Triage of Reporting Requirements
Work with this furniture company to manage the assessment of over 250 reports identified by end users to support two different business models, helping meet a tight implementation timeframe for a new ERP system.
Improving Operations Management
Work with this fast-growing transportation company to inventory the data available from its main systems, understand what types of questions executives and managers would like to have information to answer, and define options available to achieve all this, helping company personnel better manage its revenue, drivers, and fleet of trucks and trailers.