Welcome to Todd's Results! Todd's Results was a challenge in personal accountability I undertook from 2006 to 2013. During this period, I pursued "Intentional Reality" through personal accountability, my Accountability Partners and I work collaboratively to map specific goals, track progress toward these goals, and evaluate whether goals have been met.

This monthly cycle began in 2006 and has been key to producing consistent business results.
The Purpose Behind the Chart & BlackBerry
In the first half of 2004, I wrote about my "wireless addiction" to a shiny new toy, a BlackBerry! My "CrackBerry" truly was (and is) an addiction – there were (and are) so many neat things I could do with it, it became far too easy for me to lose focus by playing with the device.
My accountability partners both knew about my addiction, so in our first meeting (January 2006), they reminded me of a key point I liked to quote from a Henry Cloud talk I heard in August 2005. Dr. Cloud was talking about how he finally completed his PhD dissertation – he had to establish an external structure to help get things done, and a key element was this:
Introduce some consequences to help motivate change. The consequence that Dr. Cloud set for himself was that he would give his favorite pen – a Mont Blanc pen that was a gift from a friend – to his accountability partner if he failed to call him at the designated time every Monday morning. While this seems a trivial consequence, it was effective – for 2 years, Dr. Cloud always met his goals, even if that meant staying up late Sunday night to be ready for the Monday morning call. – From Intentional Reality Part 1 – What is Personal Accountability?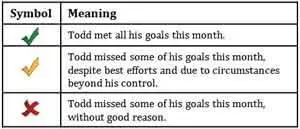 To keep things interesting, THEY (my accountability partners) wanted ME to give up a similar shiny favorite thing! THEY thought they were quite clever when they suggested the item, what with their Cheshire Cat smiles and all. But, they had me – they knew how I could lose focus and NOT complete all my agreed-upon tasks. So the three of us agreed to the following:
If planned and agreed-upon tasks are not completed, I have agreed to give up a potential distraction – my BlackBerry – for a minimum of 24 hours. This is a major consequence, trust me! – From Intentional Reality Part 2 – What do People, Process, and Technology Have To Do with Personal Accountability?
In 2013, my accountability partners and I concluded Todd's Results had fulfilled its charter – over the years, the various elements had been incorporated into THA's culture and other processes, and I was now successfully living out Henry Cloud's maxim "What begins as external, becomes internal."
Even though the Todd's Results program ended in 2013, I have retained the "lessons learned" – in fact, it's fun for me to look back at the progress I made, year by year. Perhaps you will undertake your own journey of Personal Accountability and turn YOUR intentions into reality!
Good luck,

Todd's Results: By Year
Communicating Value to Everyone (2013)
Delivering Value to Everyone (2012)
Creating Value for Everyone (2011)
Adding Value to the People (2010)
Working on the People (2009)
Leading Our Team (2008)
Re-engineering Our Business Development (2007)