It seems everything is now, Now, NOW!! Whatever happened to important, Important, IMPORTANT ?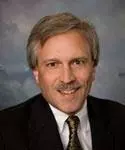 Have you noticed that work today is all about now, Now, NOW? While this expectation has been around since personal computers, the internet, and texting became widespread, it seems to have been turbocharged by Amazon Prime. Depending on your location, getting an online order within a few hours or – heaven forbid – the NEXT DAY has become the norm. But is getting that air fryer, or whatever gadget of the moment, really urgent? Or important?
The Eisenhower Matrix
Take a step back for a minute and look at your calendar. Is it also filled with tasks that appear urgent, or important, or both, yet might not be?
Urgent tasks are time sensitive and demand immediate attention, though not necessarily your attention.
Important tasks are mission critical and (by definition) require your attention, although not always right now.
A time-honored decision-making tool that helps you distinguish tasks that are urgent, important, not urgent, and not important is the Eisenhower Matrix, named after a former President. It looks like this, splitting tasks into four quadrants that help you prioritize and appropriately address them.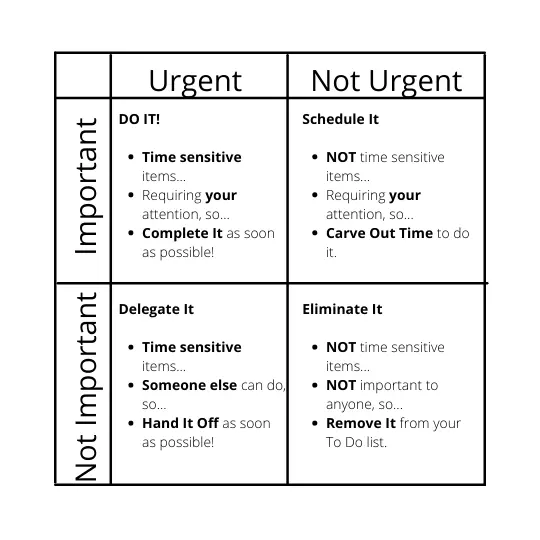 I'm leaving for vacation on September 24 and – on September 2 – when I listed ALL the work-related tasks and SOME of the personal tasks, I thought I had to complete or delegate before I left, they numbered just over 100.
Still, even after using the Eisenhower Matrix approach to assign a priority and planned disposition to all my tasks, the sheer volume of tasks was overwhelming.
Refining These Concepts to Triage and Prioritize Tasks
I am very glad I made my comprehensive To Do list when I did, because it helped me recognize – sooner rather than later – the tasks where I depended on someone else for completion. For these, I also had to take the other person's schedule and lead time into account.
Some of the techniques I routinely use to refine the Urgent and Important concepts, even when I'm not leaving for vacation, include:
Divide Tasks Into Major Types, Reflecting Importance – For me, these task types – listed in DESCENDING importance – are:

Client Work – Ensure work for clients goes well and staff are on top of issues and priorities, to keep current revenue strong.
Business Development – Initiate and juggle networking, marketing, and selling tasks, to develop future revenue opportunities.
Practice Management – Handle the higher-level administrative tasks to keep Todd Herman Associates (THA) humming.
All Other – Schedule vacations, holidays, and continuing professional education (CPE), and take other paid time off (PTO) as needed.

Divide Tasks Into Time Commitments – I tend of think of these as:


Short – 30 min or less. Bundle these and do them when you find yourself with free time.
Medium – 30 min to 2 hours. Bundle these, and put the bundle on your calendar.
Long – More than 2 hours. Put these on your calendar, breaking down as needed into manageable steps.

Separate Tasks Into Piles by Types AND Time Commitment, and Sort Piles by Urgency – I was particularly behind in my Business Development and Practice Management work, so for these I:


Took 6 large Post-It Notes, and used them to jot down the 6 combinations of the two task types and three time commitments. For example, BizDev/Medium was one of the 6 combinations.
Placed the 6 Post-Its in a line on the conference room table.
Laid out all my tasks in a pile below the appropriate Post-It.
Moved the time-sensitive tasks to the top of each pile.

Make It Visual – Having the stacks of tasks on the conference room table meant I saw them every time I left or came into the office. Seeing them kept me focused on clearing the piles, and it was very gratifying to pull a Post-It Note off the table, once its stack was gone!
Blitz Short Tasks! – Gather the Short tasks (30 minutes or less to complete), decide how much time – say, 4 hours – I can invest and knock out as many as I can in the allotted time. I always feel a LOT better when I do this!
Dance on Revenue Line – If a choice is between two equally important and urgent tasks, do the one more likely to lead to revenue or cash sooner.
Delegate! – Ask "What Is It Worth?" Assign a value to YOUR time to accomplish the task, then consider how you could delegate this work to staff or outsource it to one of your "go-to" vendors.
As I started working each pile, I sometimes found a task's actual deadline was later than I'd initially thought, or reflected an unduly aggressive internal due date, and thus could be safely pushed out until after I returned. Thus, I placed that task at the bottom of the pile and moved on to the next task.
Final Strokes
I'm writing this article on Monday, September 20. I leave for vacation this Friday at noon. Even though I've been diligently tackling tasks for the past 18 days, several Urgent and Important ones still remain. Here's how I'll address them:
E-newsletter Content – While I had much of the raw material for this e-newsletter in bullet point form, I lacked the time and focus to pull everything together. Thus, I contacted my long-time editor to see if she could take the raw material and get things into a rough version TODAY – she could, and she did! I then fleshed out her points, added some more content and examples, and Todd-ized it a bit, to yield what you're reading.
Monthly LinkedIn Video – I came into the office on Sunday and worked several hours to turn ideas about this month's video, "Urgent vs Important" into a script of about 4 minutes. On Monday morning, my Business Development Associate and I did two "table reads" of the script and determined it timed just over 4 minutes – perfect! We'll shoot the video early afternoon on Tuesday.
Client Report – I've scheduled time for late Tuesday afternoon to put a draft report into near final format, then use Wednesday to apply the finishing touches, write a cover memo, and email it to the client.
E-newsletter Software and Template – Our web site was upgraded in mid-September, causing our older version e-newsletter tool to stop working. We were entitled to the current version of the e-newsletter tool, so we upgraded the tool – now all that's left is to revise the template we use for the content, and test that thoroughly, which we will do Wednesday.
Getting Others to Cover for Me – Also on Wednesday, I'll ensure my staff cover anything that needs doing while I'm away, and alert key vendors that my staff may need to contact them directly during my vacation.
The triage and prioritization techniques in the previous section allowed me to determine the 5 truly critical tasks and then obtain help from others to get them done, allowing time on Thursday to cover slippage and any new last-minute items. So, whatever I get done before vacation, above and beyond these 5 critical tasks, is a bonus!
Longer-Term Benefits
Although my pre-vacation examples focused on immediate needs, consistently using the Eisenhower Matrix and my triage and prioritization refinements will help you:
Plan tasks ahead of time, and set realistic expectations of making intermediate and final deadlines.
Consider how the schedules and lead time of other people impact you.
Prioritize tasks so important ones that are not time-sensitive get the attention they need.
Make steady progress on long-term projects.
Say "No" to overloading yourself with too many To Do's.
Applying the techniques in this article will help you implement "Put First Things First" – the third habit in Stephen R. Covey's classic, The 7 Habits of Highly Effective People.
One Final Productivity Tip
My Coach has a great productivity tip – "Think about WHY you can get so much done the day before vacation." Why? Because a flight departure is an immovable deadline, one that ensures FOCUS and ACTION!
Sincerely,

Todd L. Herman