For background on this particular project, please visit Fish Don't Know They're In Water.
Situation: Lack of Standardized Software
This client in the commercial construction industry had, like most entrepreneurial companies, built its information systems infrastructure – including hardware and software on servers, desktops and laptops – over many years. This approach led to a wide mix of software versions in use.
Problem: CFO says "I'm Not Tech Support"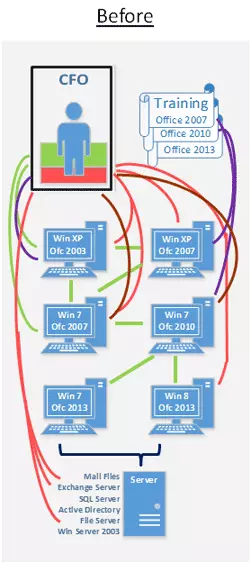 Multiple versions of Windows operating systems (including XP and Windows 7) and Microsoft Office (XP, 2003, 2007, and 2010) made troubleshooting and support difficult. Newer versions of Office no longer supported the file formats of older versions. The main server hosted an outdated bundle of server applications, running on a very old operating system, and the mail files were quickly approaching the email server's unchangeable storage limit.
The Chief Financial Officer had become the implicit "Help Desk" for his company, receiving many user questions and handling mundane support tasks – which consumed a significant portion of his day.
Solution: Move to the Cloud with Office 365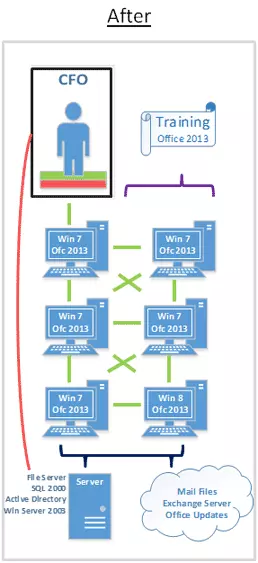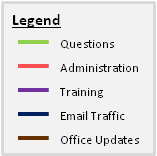 Our client saw a cloud-based solution as the way to alleviate their various issues, and Microsoft Office 365 met all their essential needs. Thus, we planned their Office 365 implementation, then guided our client in rolling out this software and services subscription, and in troubleshooting issues.
Implementing Office 365 also required a number of small, yet long-overdue, infrastructure improvements, including:
Recycling a number of outdated or under-powered desktops and laptops by upgrading memory, video card, and other components, when this made sense.
Buying a small number of new desktops and laptops.
Getting all computers to at least Windows 7, the minimum required to run Office 2013, and thus Office 365.
Cleaning up several system and user group policies on the domain server, allowing it to push security and software upgrade policies to users.
Results & Benefits:
Implementing Office 365 solved the Microsoft Office support issues – every user now has the same version of Office, which is automatically kept current, meaning:
Everyone can now attend the same training classes and help support each other.
Everyone can use each others' Office files without having to worry about incompatible file formats.
System administration was also simplified:
Every computer running Office 365 will update its Office software automatically.
Removing the email processing load and large user email files from the main server allowed it to be repurposed for better business uses.
Since all computers are now at a version of Windows capable of running automated tasks, security and update tasks can be pushed out and run, virtually eliminating visits to individual computers.
The email server and files are now in the cloud, and with up to 25 GB of email storage per user.
Documents created and edited on a local computer – or on a variety of mobile devices – are now automatically synced to a user's storage folders in the cloud, and can be made available for other users to review and edit.
Get Office 365 & Intune
Our client has found Office 365 delivered:
Fewer headaches, for both managers and staff.
More manageable cash outlays, versus the periodic large cash outlays in the past for new software, user computers, and servers.
Easy sharing of files with other employees.
Improved user productivity.
More time for the CFO to work on strategic issues, because interruptions to answer questions and handle tasks have been greatly reduced.
Would you like to enjoy benefits like our client did? If so, contact Todd now (336.297.4200) about Office 365, and read more about Office 365 in our services section.