For background on this particular project, please visit What Were They Buying.
Situation ...
This company needed to replace their aging and unsupported business system with a modern mid-level Enterprise Resource Planning (ERP) system to better support their light manufacturing operations at one location, and their contract distribution operations at a second location. Furthermore, this implementation had to be completed within nine months to meet the Board of Directors' expectations.
Problem ...
Our leanly staffed client faced a very complex implementation project for several reasons:
The initial implementation had to support an electronic data exchange technique called Military Standard Requisitioning and Issue Procedures (MILSTRIP) – unique to military contracts – for 40 different transaction types.
The eventual implementation had to support sending and receiving Electronic Document Interchange (EDI) documents for military contracts.
The MILSTRIP and EDI specifications were very exacting, and implementation had to be precisely timed, to not interrupt contract processing.
Several software packages extending the ERP system to workers with disabilities had to be purchased and integrated, and some packages required upgrading or purchasing specialized user-assistance devices.
All in all, this was a complex implementation, integration, and customization project well beyond the skills of our client and their implementation vendor.
Solution ...
We provided the project management skills and experience for this project, taking the lead in:
Dealing with the main implementation vendor, and the four supporting vendors.
Tracking progress against the schedule required by a major customer.
Assigning tasks to balance workload and skill sets.
Chairing weekly project status meetings, and holding all team members accountable for results.
Scrutinizing invoices and correspondence from vendors, and ensuring commitments were honored and change orders were documented.
Managing issues by assessing impacts on timeline, client personnel, and budget.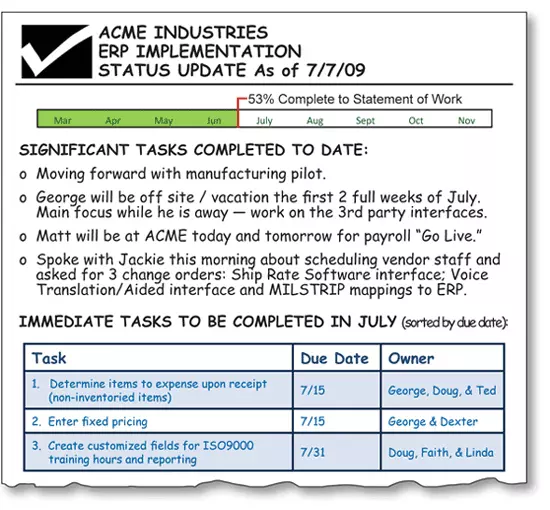 The weekly status report concisely:
Communicates percentage completion of tasks versus those in the Statement of Work (SOW).
Indicates, from the green progress "thermometer," the project is on-time and on-budget.
Summarizes last week's accomplishments.
Sets out short-term critical-path tasks.
Highlights potential issues.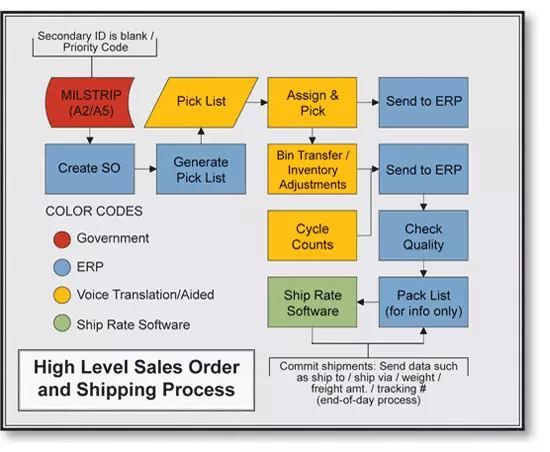 This high-level process diagram was one of many created for the project to concisely communicate the parties, systems, and transactions needed to successfully carry out particular processes. The number of colors and symbols depicts the project's complexity.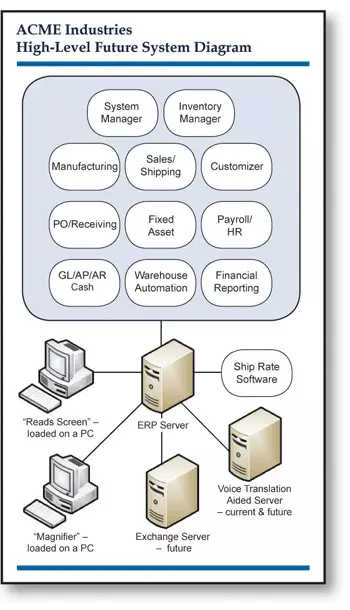 The high-level future system diagram not only showed the project team how the individual software and hardware components needed to come together – it also illustrates the many integrations and customizations for the project.
Results & Benefits ...
The implementation for the manufacturing operations was on-time and on-budget. For the distribution location, implementation was on-budget, but delayed by one month because of unavoidable vendor delays in tailoring the ERP system to an outdated shipper rate search program.
Overall, the implementation went very smoothly, despite many issues. As issues came up, we quickly proposed process changes and improvements matching the assumptions underlying the technology, ensuring customizations were minimal and were coded only when absolutely necessary.
Furthermore, client staff were able to handle both their day-to-day and specific project tasks without being overwhelmed learning skills and techniques unique to large-scale software projects.
Conclusion ...
Our client not only achieved the various benefits anticipated with the new system – enhanced tracking in manufacturing, better reporting, and improved controls – but did so while meeting a tight budget specified by the Board, rigid time frames imposed by the client or its customers, and stretch goals for process improvements and "best practices."
For More Information...
To discuss how technology usage and business process improvements could be applied to the issues facing your business, call us at 336.297.4200 to schedule a no-obligation consultation, or click here to contact us online.