For background on this particular project, please visit K.I.S.S..
Situation ...
This medical services company had grown rapidly, as a result of new services and acquisitions. In their Billing call support center, the number of personnel and the number of calls received had both increased. Additionally, the method of tracking and documenting these calls was inconsistent among call support representatives, with both electronic and handwritten notes being kept.
Problem ...
There was no way to electronically track calls for research and reporting purposes in the Billing call support area. This affected how well our client could:
Document and retrieve answers given to its customers' billing questions.
Identify issues which required fixing a problem in the quoting, pricing, ordering, fulfillment, or billing functions.
Evaluate the efficiency and effectiveness of its call support representatives.
Furthermore, an off-the-shelf call support application was not desired, because of both cost and complexity.
Solution ...
We developed an easy-to-use Microsoft Access application for this client's call support representatives, specifically tailored to allow extremely quick documentation of all incoming calls.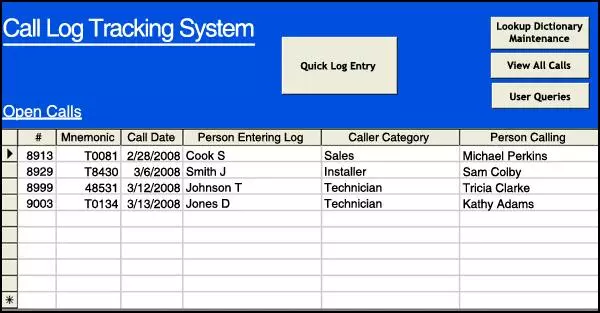 The Call Log Tracking System allows users to monitor, view, and document incoming and open calls. The User Queries function permits calls to be searched by log date range, resolution date range, caller category, or call support representative. When a call is received, the Quick Log Entry button brings up a New Quick log, as shown below.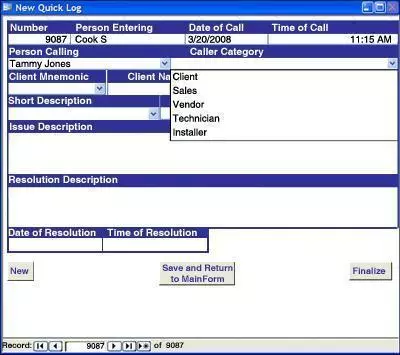 The New Quick Log is used to document calls from clients, sales representatives, vendors, technicians, and installers. Predefined values, type-ahead fields, and tab-over functions enable call support representatives to quickly complete the log entry, ensuring accurate and efficient documentation throughout the department.
This Access application contained many techniques – such as automatically advancing to the next field, type-ahead picklists, and keyboard-only navigation (no mouse required) – to allow a new form to be created in less than 1 second and to permit complete data entry in less than 60 seconds.
Results & Benefits ...
This call logging and tracking application enables client personnel to more quickly and efficiently serve their customers, by documenting the research of problems and resolution of issues. Since its inception 12 months ago, over 9,000 calls have been entered into this searchable database in order to:
Monitor call support representative's productivity.
Analyze client activity.
Diagnose and resolve recurring operational issues.
Quickly resolve open calls.
The Manager of this department describes the Call Log Tracking application as a very useful and valuable tool.
Conclusion ...
Our client benefited from our ability to both quickly analyze their needs and efficiently develop a customized application meeting their goals for simplicity, low cost, fast operation, and quick deployment.
For More Information ...
To discuss how technology usage and business process improvements could be applied to the issues facing your business, call us at 336.297.4200 to schedule a no-obligation consultation, or click here to contact us online.