For background on this particular project, please visit It Only Looks Easy.
Situation ...
This growing multi-location jewelry retailer's repair business had changed over the years, moving from a mix of store-based and central repairs to a central repair center. Processes and technologies supporting the repair center are keys to both a satisfied clientele, and growing repair revenues from its clientele as well as from other jewelry stores.
Problem ...
The existing application tracked repair items only within the repair center, and was not integrated with the recently upgraded Customer Relationship Management (CRM) system. The existing processes did not provide visibility and accountability for large-value items from the store to the repair center, and on return. The processes and technologies required duplicate data entry, manual tracking, and were not aligned with the vision of revenue growth for this area, as seen by executives and key managers. In short, vision needed to be translated into specifics to enable action.
Solution ...
We worked with client personnel to:
Lead meetings with executives and key managers to baseline the current state process and technology, and to outline possible future improvements.
Validate the stated current process and technology against actual practices, by visiting stores, the repair center, and the central office.
Translate suggestions for improvement into an integrated set of process and technology specifications.
Develop mockups of computer screens and related functionality for each step in the revised process.
Prepare notes to help our client's application developer understand the proposed process and technology.
Validate these deliverables with specific client personnel.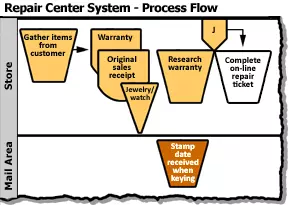 This excerpt of the future state process depicts the workflow patterns through various documents, computer screens, manual operations and decision points — using "swim lanes" to organize these by departments and roles. This excerpt includes the "Create Repair Ticket" step.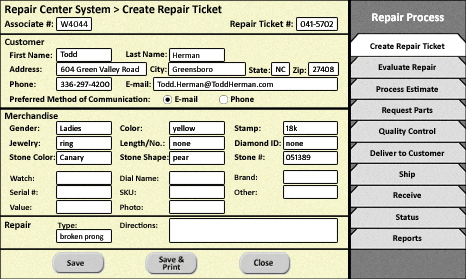 The "Create Repair Ticket" screen tracks the repair process, from store to Repair Center and on return. It includes information to identify the Sales Associate, Customer, Merchandise (with differing requirements for Jewelry and Watch), and Repair. The customer's preferred method of communication is observed throughout the repair process. A palette of all available functions is on the right side of the screen.
Results & Benefits ...
We worked quickly and efficiently with persons throughout the organization to draw out their needs and ideas, organize these into a concise current state description, and propose a future state to meet management goals. Our client now has an overall roadmap to implement the desired future state, consisting of:
Process map of the revised future process.
Screen mockups and functional specifications for our client's internal developer to build out the new web-based application.
Clarity among executives and managers about how business goals for the Repair Center will be achieved.
Conclusion ...
In under 80 hours, we:
Helped our client articulate and clarify their vision for the desired state of the repair center.
Developed and presented specific documents and concrete steps to mark the implementation trail for their vision.
Overall, we brought a broad range of business, technical, and interpersonal skills to create a framework for successfully defining and communicating business and system requirements.
For More Information ...
To discuss how technology usage and business process improvements could be applied to the issues facing your business, call us at 336.297.4200 to schedule a no-obligation consultation, or click here to contact us online.