For background on this particular project, please visit Herding Cats.
Situation …
Our client is a successful property development and management company. About a year ago, they switched their main business system from Yardi to RealPage. As part of the switch, personnel received RealPage training appropriate to their positions.
Training materials still needed to be developed for our client's specific usage of RealPage, and the procedures manual had not been updated to reflect RealPage. Thus, reviewing and documenting the current business processes and RealPage usage was needed, and we were retained to do this.
Opportunity …
Once we began working with the client's key operations personnel, it quickly became apparent the various properties did not follow consistent processes. Compounding this issue, personnel were also using RealPage inconsistently.
As a result, processes were not producing consistent results among the properties, and RealPage property information was not comparable.
Solution ...
Our engagement was expanded to work with representatives from all the properties, lead them in meetings to discuss their process similarities and differences, reach agreement on "best practices" in each area, and gain consensus on the new process all properties would follow.
A key tool in these meetings were SIPOC (Supplier – Input – Processing – Output – Customer) diagrams. These are a common process improvement tool used to explicitly identify a Supplier of an Input for Processing, to yield an Output for a Customer. Note that Supplier and Customer can either be a person or a system, and can be internal or external to the organization.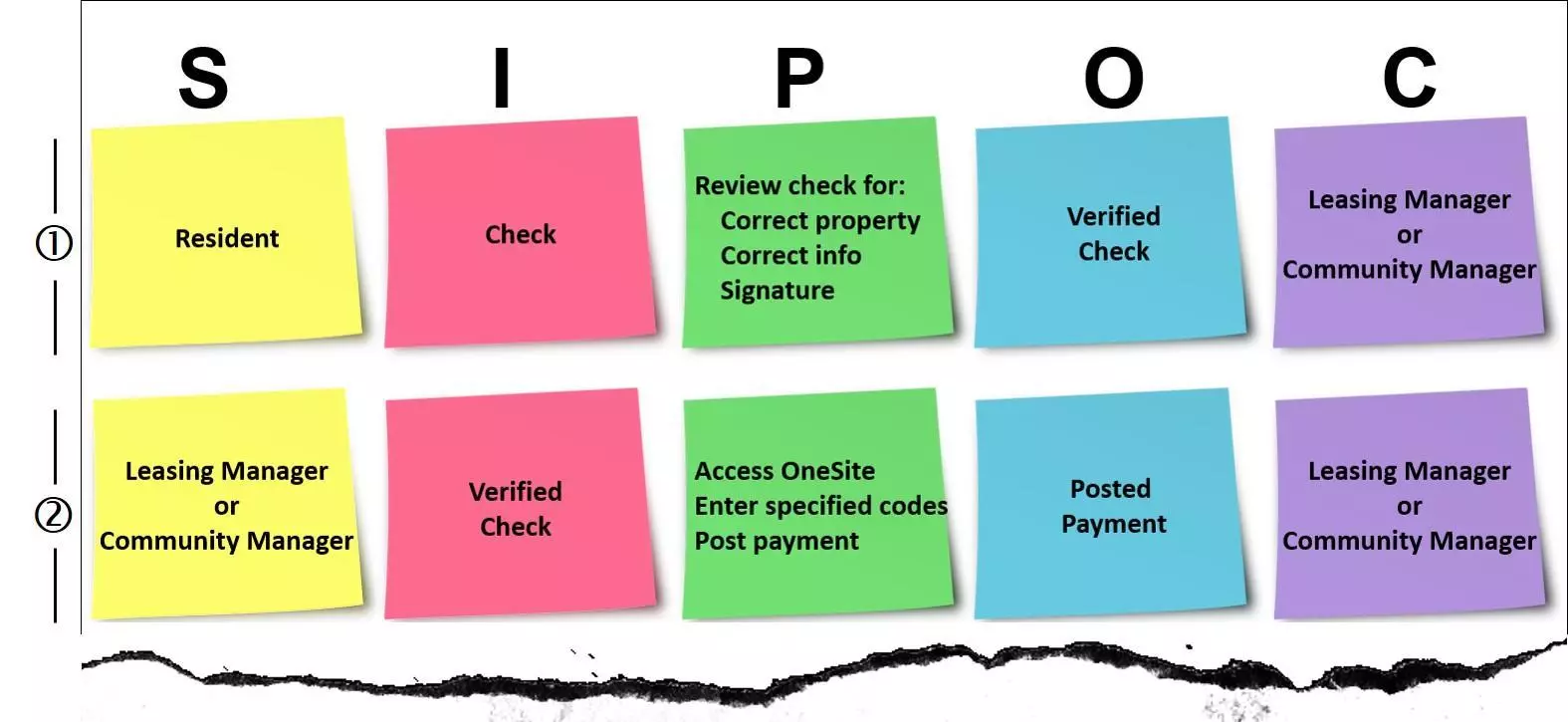 We used sticky notes of various colors to quickly jot down the essence of the SIPOC element being discussed, then stuck the note in the appropriately labeled column on a flipchart.
These meetings were also used to hash out how RealPage should be used in the processes. We learned several RealPage functions needed to be reconfigured or deployed for use.
Following the meetings, we used to SIPOC diagrams to document the processes. We also worked with a RealPage consultant to implement the client's processes and terminology in the system, and then we added specific instructions and a link to RealPage to document correct usage of RealPage.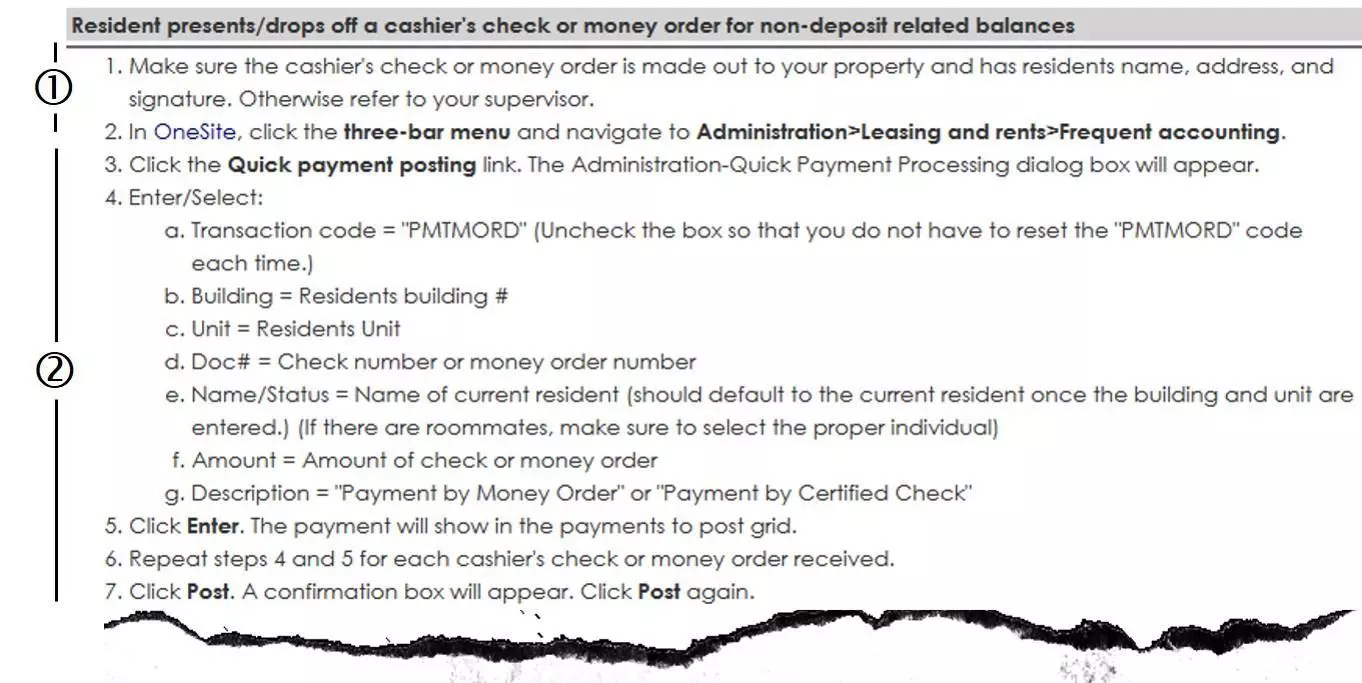 Once in the "Post monies" process document, clicking the "OneSite" link jumps to RealPage where you can navigate to the "Quick Payment Processing" screen.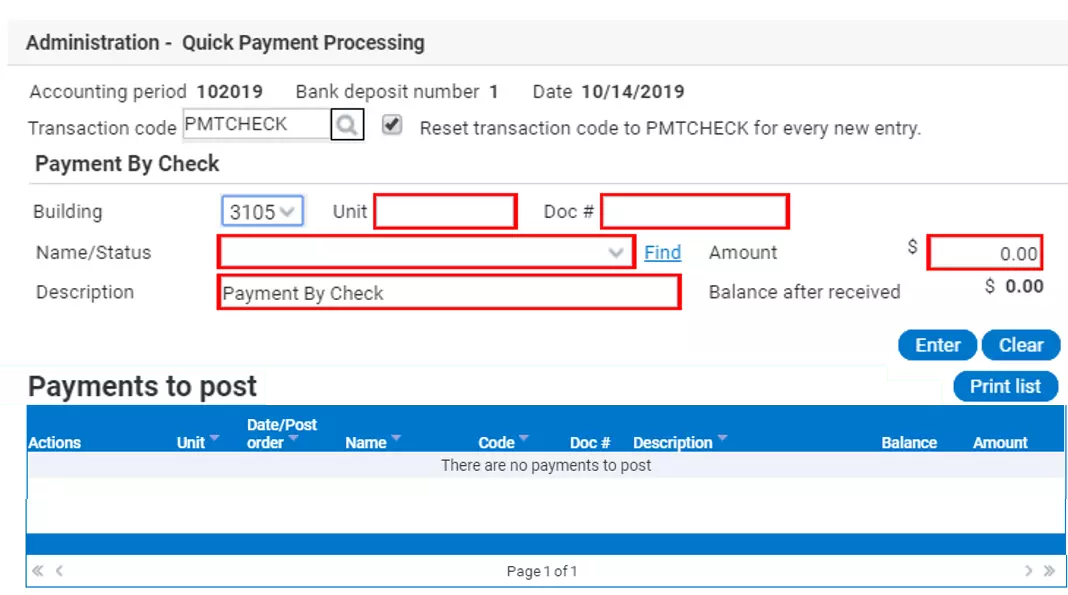 We deployed the completed process instructions in HTML format to a simple web browser-based intranet, structured so that a client's staff member could use the browser to maintain the text and links. This allowed us to develop daily, weekly, and monthly lists of duties by position, and link these to the appropriate instructions.

With all this in place, the client's trainer developed training materials and trained all property personnel on the new procedures.
Results and Benefits ...
Activities are now conducted consistently across all properties, including consistent usage of RealPage functionality. This consistency makes it easy for personnel at one property to substitute for vacationing or sick staff at another one. Information and reports in RealPage are also consistent, providing executives and managers with information to compare performance between and among the properties.
Conclusion ...
Process consistency ensures everyone knows what they are supposed to do, and by when, in a given situation. Information consistency permits executives and managers to confidently evaluate property and process results.