For background on this particular project, please visit Why CUF is Better than FUD.
Situation: Fast Growth Caused Outgrowth
The president and operations head of a fast-growing patient medication management company came to us with immediate, short-term, and longer-term needs.
Opportunity: The Chance to Do Things Right
The immediate need was to develop a system to duplicate the capabilities of an off-the-shelf patient medication management system they had outgrown, and to build the software with additional improvements in mind. They described their paper, Excel, and Access workarounds, and felt there must be a better way to achieve their desired results.
Their short-term need was to comply with a new Federal requirement about providing information to their customers, which are largely funded by government programs. Their longer-term needs were to increase efficiency and effectiveness of their personnel, and to develop a platform to enhance their "Customer-Intimate" market position.
Solution: Building a Solution Focused on Efficiency & Effectiveness
Our Senior Consultant initially worked with client personnel to understand their basic processes, and then to propose and refine ideas to eliminate inefficiencies. After this, we immediately began Phase 1, rapidly designing, developing, and deploying a browser-based system to serve their immediate needs.
We then switched gears and focused on their other needs. We added automated faxing into the system, and replaced their manual process to print, address, and fax a paper document – this cut staff time from a few minutes per fax to just a few seconds, and automatically archived the fax image.
We designed, developed, and deployed the functionality to give customers access to additional information via a secure web portal – this avoided the need to hire additional personnel to handle these new regulatory requirements.
Diagram and Roadmap
This Roadmap shows our client how the immediate needs (Phase 1) and short-term needs (Phases 1.1 to 1.3) would proceed, while laying the groundwork for the longer-term needs(Phases 2, 3, and 4). A one-page Roadmap helped promote strategic thinking – we could discuss with our client how their desired "Customer-Intimate" focus was enabled by each phase and see how the project fits into their overall game plan and success.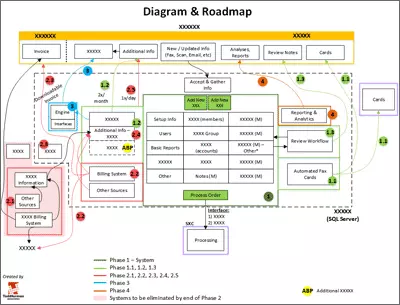 Results & Benefits: Streamlining the Most Expensive Process
A quantum leap in efficiency and effectiveness came from integrating technology into the pharmacists' review of patient medication.
Previously, these were done on paper, and required significant staff time to track the needed reviews. Now, reviews are requested and tracked through the system – pharmacists work through the queue based on review priority, review the medications, note recommended changes for the attending physician, and mark the review as complete.
Two additional features provided even better efficiency:
The system stores each pharmacist's recommendations by medication and patient, then retrieves and pre-populates each pharmacist's most frequent recommendation for each medication.
The system automatically faxes the review to the requester, and permanently archives what was sent.
Pharmacy Review
The new system presents the user-selected medication list for the pharmacist's review. All medications are shown, as well as vital information on the patient and the diagnoses. Documenting recommendations becomes easier the more each pharmacist uses the system – the system stores pharmacist-specific recommendations by medication, then presents the most frequent ones for the specific pharmacist to insert and, if needed, edit. User preferences on phrasing are respected, while re-usability is enabled.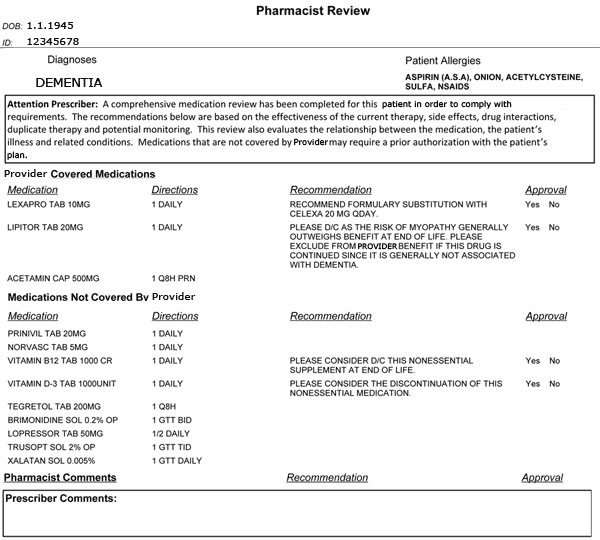 Conclusion: Fast Growth Now Easily Supported
Key personnel of this healthcare company had a goal to develop a more appropriate business system, and streamline their processes at the same time. By working with Todd Herman Associates, our client improved its competitive position, because it made a smart one-time investment to achieve ongoing cost savings.
Now, as they continue their aggressive growth curve, they will be able to serve a much greater number of customers, with only minimal additions in staff.
Would you like to enjoy benefits like our client did? If so, contact me now about your process improvement ideas and questions.