July 2000
Situation ...
A distributor and converter of paper and paper-based products has service centers throughout the southeastern United States. These centers are grouped by region. Product and pricing information is maintained by region, and distributed to the sales representatives within the region. Lotus Notes was already the e-mail system for this company.
Problem ...
Each month the company published over a thousand copies of its price lists, with distribution costs ranging from eight to twelve thousand dollars per month. The process was labor-intensive, consuming precious IS resources and yielding lists that were unmanageable and inherently outdated. This client needed a more timely and efficient way to share product and pricing information with its sales representatives.
Solution ...
A custom Lotus Notes application consisting of a template used to create a price list database for each of the five regions. Key features provided in this Notes application include:
Import agent allows quick and easy update of price list databases on a scheduled basis.
Updates affect only fields that have changed.
Dial-in database replication enables sales representatives to quickly receive updated product and price documents, then use them locally at their convenience
Document views allow alternate sorting and searching on key fields.
Powerful custom-tailored query features allow sales representatives to search on any field and save search criteria for future use.
Setup documents allow for easy maintenance of master class, class, and manufacturing codes and descriptions.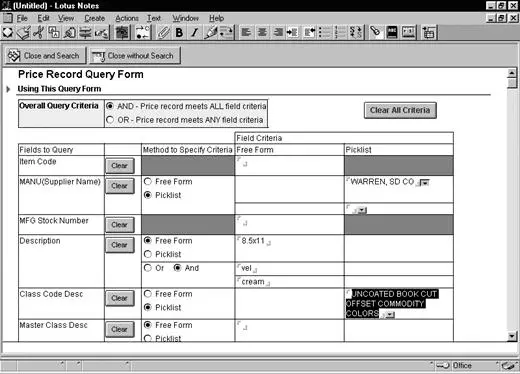 The custom query screen allows the user to specify free-form criteria, or choose from available picklists. Up to three criteria can be entered for each field. In addition to specifying the overall query criteria of either "And" or "Or", the user can also specify "And" or "Or" for the Description field criteria.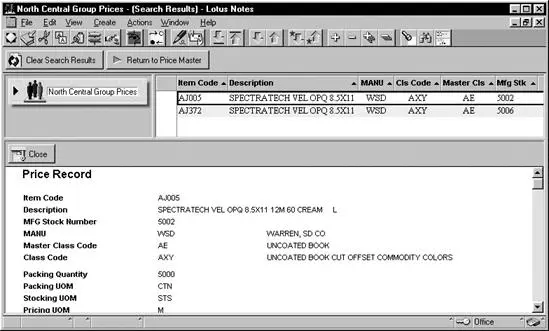 The criteria shown above yielded the two records shown at right. If the results were too restrictive, the sales rep could easily revise the criteria, which are saved for each user.
Results & Benefits ...
Sales representatives now have access to timely information when they need it and have the ability to search and drill down to specific information. Resources required from IS are reduced. The company saves time and money in reducing – and ultimately eliminating – hardcopy price lists.
Conclusion ...
The client used Notes to share its internal information in a more convenient and efficient manner. In addition, Notes provided a way to access and search on the information that did not exist before. Notes provides a strong platform for future projects, including a document library to provide a repository of marketing information and a sourcing database to provide information on vendors and their products.
For More Information ...
To discuss how technology usage and business process improvements could be applied to the issues facing your business, call us at 336.297.4200 to schedule a no-obligation consultation, or click here to contact us online.