August 2000
Situation ...
An industrial coatings manufacturer needed to share information on its paints, stains, coatings, and programs with its customers. Information to be shared included:
Product usage instructions.
Material safety data sheets.
Product prices.
Cooperative advertising account balances.
Problem ...
The company's information was spread across several systems, none of which were secure for customer use.
Solution ...
A custom application consisting of several document databases using the Lotus Notes® software. Features and benefits provided by Notes included:
Strong text formatting permits this client to create and maintain highly formatted product usage instructions, without a separate word processor.
Import and copy/paste allow easy entry of main business system information.
Dial-in database replication enables customers to quickly update documents, then use them locally at their convenience.
Robust security features – including passwords, certified identification, encryption keys, and access control – ensure that account information is distributed only to the appropriate customer.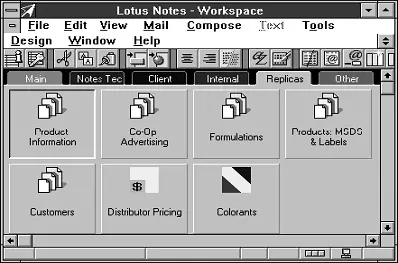 The Notes desktop shows the available document databases. Opening the Product Information database displays the view by product code, shown below. Views present summary document information in an outline form. The outline can be expanded or collapsed to focus on items of interest.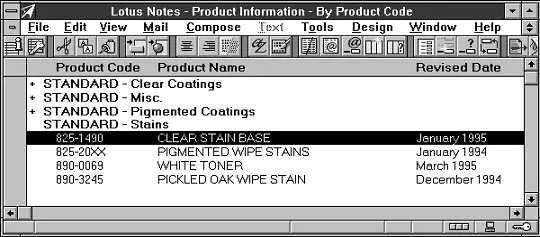 The user has progressed from the view to the document level. Documents can be viewed, edited, or printed. Security can be controlled at the database, document and field level.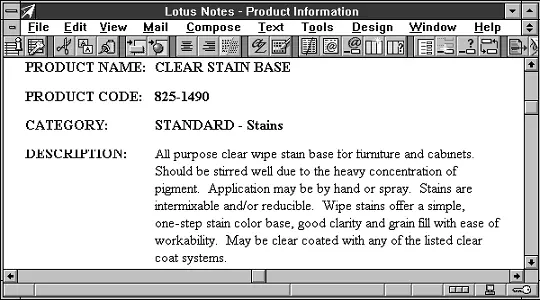 Results & Benefits...
Customers now have access to information they need, when they need it. Customer Service will be able to reduce time spent answering routine questions. Document authors can be certain that all users affected by changed information will quickly receive updates.
Conclusion...
This client used Notes to share its internal information with customers, providing a service unique in its industry. Notes provides a strong platform for future projects, including order entry by the customers, with transmission via Notes and interface to the main business system.
For More Information...
To discuss how technology usage and business process improvements could be applied to the issues facing your business, call us at 336.297.4200 to schedule a no-obligation consultation, or click here to contact us online.