For background on this particular project, please visit You Might Need a New ERP System If ...
Situation…
Our client is a rapidly growing snack maker, whose growth resulted from health-conscious products and marketing savvy. Their products include a variety of nuts, dried fruits, and granola, sold individually or in trail mix recipes. Products are packaged in numerous ways - in bulk bags, various sizes of plastic cartons, and various types and sizes of bags.
Opportunity…
Like many entrepreneurial companies, this company had used QuickBooks Enterprise (QBE) since beginning operations. At the time, this was sufficient for their needs. With increased volume, greater product variety and complexity, and strict Food & Drug Administration (FDA) requirements, QBE could no longer meet their needs.
Various Excel spreadsheets were being used to plug QBE's holes, including production scheduling, purchase planning, purchase contract tracking, lot tracking, and product costing. The business owner knew this combination of QBE and Excel was no longer sustainable, especially as outsourced production operations were planned to be brought in-house.
Solution...
Our client retained us to assist them with selecting a new Enterprise Resource Planning (ERP) system to meet their needs. We first observed their key business processes in action, reviewed financial and operational reports being used from both QBE and Excel, asked key stakeholders about their current pain points, and discussed growth plans and upcoming operations changes. We also discussed budget expectations for a new ERP system, including the ERP software and implementation services, and any additional hardware and software required for the new system.
We then distilled all this into a memo describing the client's history, operations, current state, desired future state, and ranges for the project budget.
At this point, we had the key information required to start researching and winnowing viable ERP options for our client. After consulting various online resources and contacting other companies in this industry, we developed an initial list of 5 potential candidate systems. Throughout the selection process, we summarized and reported our key findings to our client, and ultimately narrowed the list to 2 strong finalists.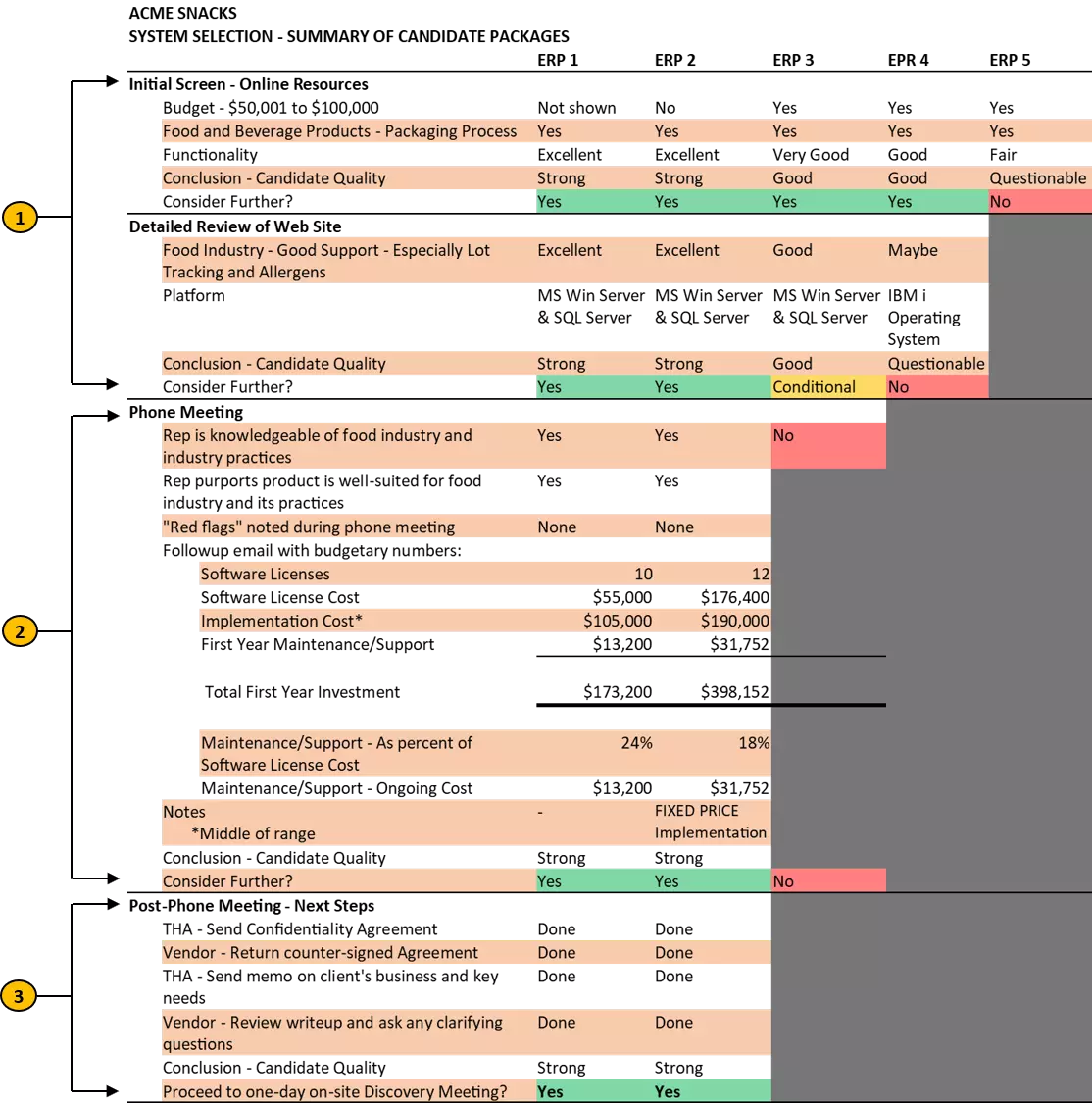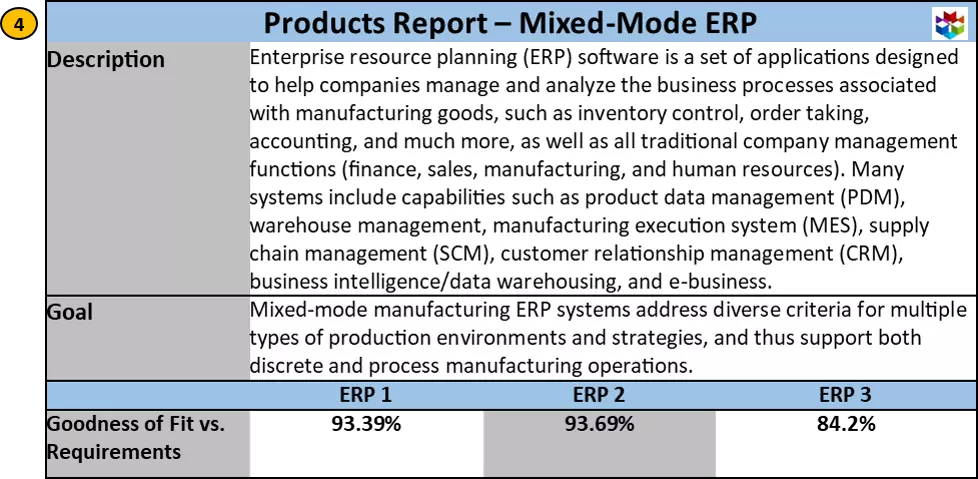 We quickly struck one system from the initial list of 5 potential candidate systems because it lacked many required industry-specific features. From there, we reviewed the product features listed on each vendor's web site, and ruled out one more system because it required a platform priced above the budgeted amount.
For the 3 remaining systems, we conducted phone calls vendors to anonymously share our client's information and gather budgetary estimates. One vendor's sales rep did not understand the client's industry which - along with some weak features - led us to drop this system from consideration.
At this point, both vendors needed to know the identity of our client. After both parties signed a mutual non-disclosure agreement, we shared the memo about the client with the vendors, and spent several phone calls answering questions about the client. This work prepared the vendors for the final phase of the project.
Only 2 ERP systems met about 90% or more of our client's needs out of the box, and aligned with the budget.
These 2 ERP system finalists were invited on-site for two days each. The first was a "Discovery Day" for the vendor's personnel to tour the operations, meet with key client personnel to ask detailed questions about process and operations, and flesh out their understanding of our client's problems and needs.
The second was a "Demo Day" where the vendors demonstrated how their system would meet our client's specific needs, answer questions about system functionality, and deliver a project proposal for our client to review and consider.
After the second vendor finished their "Demo Day," the company's owner met with his key personnel and us to make a final decision. This decision was shared with both vendors, and final contract details were worked out over the following few weeks.
Results and Benefits...
Because of our strong knowledge of business processes, manufacturing operations, and information systems, we are able to shoulder the great majority of the system selection work, thereby minimizing time demands on client personnel and allowing them to focus on their day-to-day responsibilities.
Client personnel appreciated this, because they were dealing with both 30% year-over-year growth and their annual busy season while the selection process was taking place.
The implementation and launch of the new ERP system went very well. The client achieved their expected efficiency improvements, and now had the capabilities to better manage and document compliance with FDA and other requirements.
Conclusion...
We ran an efficient and effective ERP system selection project for our client, resulting in an excellent match between our client's needs and operating philosophy with the selected system's capabilities and customer-focused business model.