Situation ...
This medical services company's business had grown exponentially over the last 10 years. Our client's billing system, while recording transactions accurately, is inflexible in its reporting options.
Problem ...
Our client's legacy system did not provide month-to-month billing detail in a direct way. As a result, calls to Customer Service were increasing, and payments were often delayed until all transactions – including adjustments – were presented clearly.
Solution ...
We reviewed our client's existing billing system, analyzing its processes, technology, and performance metrics. We found:
Customers were delaying payment because prior adjustments to the account were not clearly communicated on the current bill.
The current system was not designed to process, reconcile, and total insurance adjustments made to the account, so the current statement was confusing to read.
Increased customer calls for billing issues resulted in a costly increase in personnel to handle these.
Using our insights, we designed and developed an application to:
Download information from the mainframe billing system.
Automatically reconcile current information to the prior month's statement.
E-mail customers to notify them that monthly statements are ready for download.
Allow customers to select from multiple billing statement formats and securely download this information.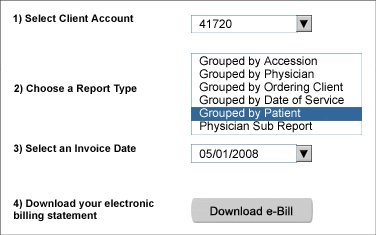 The Download Request allows the customer to select a client account, type of report, and invoice date. The statement is then downloaded in the selected format instantly.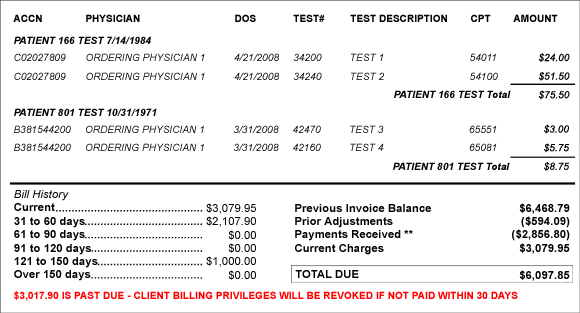 The Billing Statement detail shows account, physician, date of service, and test information. The statement clearly shows the components of the total amount due – previous balance, prior adjustments, payments received, and current charges. Overall, format, readability, and convenience have been significantly improved.
Results & Benefits ...
Our client's monthly billing statements are now automatically processed on a scheduled basis, with more detail. In addition, our client has:
Gained a significant competitive edge within their industry – the Sales team now demonstrates the e-billing system to attract new customers.
Reduced reasons for delayed payments.
Increased customer satisfaction by sending e-mail notification to their customers, alerting them their billing statements are ready to download.
Provided customers with multiple statement types, to meet their needs.
Conclusion ...
Our client wanted a secure, user-friendly, web-based system to provide billing statement information to their customers. We were able to deliver this system – from concept to prototype to final implementation – within an aggressive timeframe of 4 months.
For More Information ...
To discuss how technology usage and business process improvements could be applied to the issues facing your business, call us at 336.297.4200 to schedule a no-obligation consultation, or click here to contact us online.