We hope you find ways to do just that, starting with taking a few minutes to understand Guilford County's Ten Year Plan to End Chronic Homelessness – and Greensboro Urban Ministry's Role.
What you can do right now – Invite us to speak!
Executive Director Mike Aiken, and I are happy to speak to your group, pretty much any day of the week and at any time – it's THAT important.
Through November 30, 2012, Mike and I have made presentations to 13 groups!
To schedule, please call either Mike or me:
Other ways we (and you!) can participate – Individual Contributions and Corporate Sponsorships

Greater Greensboro CROP Hunger Walk
Honor Cards – This holiday season, many will honor someone special with the gift of one of these beautiful cards created by William Mangum. All proceeds will go to support those in need in our community through the work of Greensboro Urban Ministry. Honor Cards can be purchased for a minimum donation of $5 each. The 2010 Honor Card raised approximately $225,000.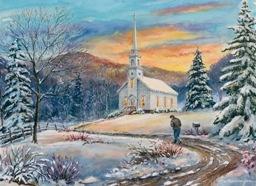 "The Climb" - 2012 Honor Card
For more information, contact:
Crystal Mercer
Tel: 336.271.5959 ext 301 or email