Think Differently
Thinking differently is what will set you apart from your competitors. Find out how to think outside of the box.
Good Things Come In Small Packages
You've likely heard the phrase, "Good things come in small packages." You might also wonder "How does that apply to books?"
When you hire a consultant or other specialist and the deliverable is an intangible, how do you "see" what's invisible?
Breaking Up With Your Software!
Make Your Life Easier! Say "Good-bye" to Your Over-Dependence on Spreadsheets!
Todd's Review of the 26th Year at Todd Herman & Associates
Todd shares how you can identify whether your Information Systems department needs a transformation.
Going From Doodle to Client Roadmap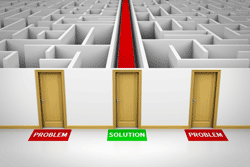 Todd's review on books that can help you and your business see around corners better.
Use these 23 idea generators to become indispensable at your organization.
Our 6th Annual Summer Book Review — Six books to prime your mental pump!
Thinking is Overrated...and Feeling is Underrated
Read about the "softer skills" you need to be successful in the 85% Solution, The Heart of Change, and others in this year's book review.
The Value of the Unanswered Question - A Business Fable
Data is relevant and of value only if it makes a difference to a decision. ... Until it is placed in an appropriate context, data is not information. Read a fable that can help your business create information.
Technology brings speed. Find out how to maximize technology usage to gain speed in your business.
Brain Food: 2007 Summer Book Review
Useful books for your business and yourself by Sam Harrison, Kathryn D. Cramer and Hank Wasiak, Keith Yamashita and Sandra Spataro, paul Arden, and James C. Hunter.
Stories: Our 2006 Summer Book Review
Read reviews about The Way of the Cockroach by Craig Hovey, Corporate Canaries by Gary Sutton and Silos, Politics and Turf Wars by Patrick Lencioni and other must read books.
Read reviews on What Clients Love by Harry Beckwith, The Radical Leap by Steve Farber and other great books.