Stopgap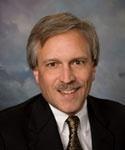 In thinking about the focus of the case study in this month's e-newsletter, I realized that the emphasis was expediency. Our client was saddled with an out-of-date patchwork of computer programs — which we are working with them to address via a system selection project — but also had a new business opportunity that would overwhelm their people because of process and technology issues, unless something was done. The technology — the patchwork of computer programs — could not be addressed in time to take advantage of this business opportunity.
Sales Rep Order Processing Stopgap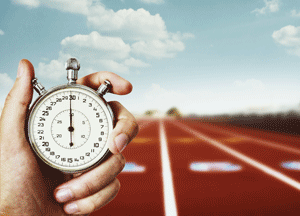 The current process of sales reps sending in orders — via phone, fax, or email — worked for the current lines of business that were sold in large quantities, but would completely fall apart for a large number of small orders. Virtually all the research and validation in the current process was done by the Customer Service reps, once they received the order from the sales reps. Applying this approach to the new business opportunity would bring everything crashing down.
Webster's Revised Unabridged Dictionary defines "stopgap" as "that which closes or fills up an opening or gap." I believe this definition accurately describes the approach we recommended for our client's situation. We knew that an expedient approach was necessary to improve the order taking process — particularly on the research and validation of information — but we knew that changing the order entry system (the patchwork technology) was unrealistic in the short-term. Thus, we moved the lookup and validation processing to the sales reps, via the easy-to-use Excel application described in the case study below, titled Streamlining a Sales Order Entry Process. Read more on automating your business processes.
Balance Automation and Sophistication
We worked closely with the client to define and develop the application, always keeping in mind the trade-offs inherent in any interim solution — balancing the degree of automation and the sophistication of lookups against the scope of the project. I am pleased to report that this application was defined, developed, deployed, and producing benefits within a matter of weeks.
Business ROI comes in various forms — sometimes it's in big projects, like revising overall business processes or implementing a new ERP system. Other times, it's in stopgap projects such as this one. Regardless of size, the common theme is that business ROI is produced when technology is used to help improve processes and enable people to work better — and getting to ROI is what business is all about!
Sincerely yours,
Todd L. Herman
Read more about the benefits of developing an application for your business.
---
Case Study: Streamlining a Sales Order Entry Process
Situation...
A specialty fabric manufacturing company recently extended its product line, introducing a new direct-to-customer selling model. As a result, our client expected a sharp increase in the number of sales orders. The existing sales order entry system was cumbersome and was not designed to accommodate a high number of sales orders.
Problem...
Customer Service currently spends an estimated 50% of their time researching necessary information, such as cross-referencing product numbers, validating units of measure, verifying pricing, or looking up missing information.
The projected doubling to tripling of sales orders will overwhelm the Customer Service reps. While the selection and implementation of a new business system is planned later this year — to better align business processes with enabling technology — our client needed a "stopgap" solution to handle the expected sales order increase.
Solution...
We developed an easy-to-use Excel application for this client's sales representatives to quickly prepare the sales order request and ensure that all required information is present before sending the sales order to Customer Service.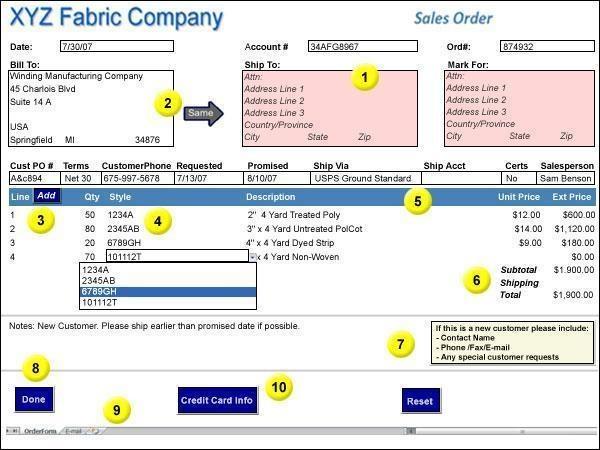 | | |
| --- | --- |
| | Required fields are highlighted until a valid entry is made. |
| | Clicking the "Same" button prompts the "Ship To" with the "Bill To" information. |
| | The "Add" button will automatically insert another line for the sales order. |
| | The "Style" field is populated by user-maintainable drop down lists to ensure accuracy. |
| | Product description and unit price are automatically populated based on the item selected. |
| | Extended price, subtotal, and total are updated as items are added to the sales order. |
| | Extended price, subtotal, and total are updated as items are added to the sales order. |
| | The "Done" button validates all data and saves the sales order with a filename for e-mailing. |
| | The completed sales order may be e-mailed to Customer Service for processing. |
| | Clicking the "Credit Card Info" button pops up a dialog box, prompting for required fields. |
This Excel application contains many techniques — such as automation of common tasks, prepopulated lists of valid data, and lookup of pricing based on volume and other factors — to help sales personnel complete the order request quickly, completely, and accurately. Once the order request is complete, the sales rep can click a button to automatically save the file — with a descriptive filename — and then e-mail the file to Customer Service.
Results & Benefits...
This application will allow our client to efficiently handle the expected increase in sales orders received, permitting them to service this new business line and affording them time to explore a more permanent solution.
In addition, the new process ensures higher sales order accuracy, thus reducing time-consuming research and rework by Customer Service.
Conclusion...
Our client benefited from our experience in business process improvement, using technology to help people work more efficiently, at a time when they needed a short-term solution to expedite the sales order process.
For More Information...
To discuss how technology usage and business process improvements could be applied to the issues facing your business, call us at 336.297.4200 to schedule a no-obligation consultation, or click here to contact us online.