Simplicity on Screen, Complexity Behind the Scenes
"Everything should be made as simple as possible, but not simpler." — Albert Einstein

In today's world, we don't need more complexity — we need more simplicity. Apple revolutionized how we obtain and enjoy music with its hugely successful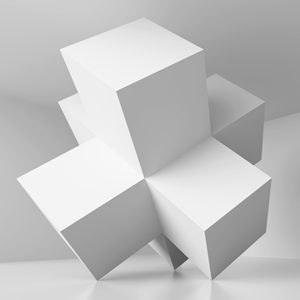 iPod product line — and the company appears to be poised to do the same thing for photos, web browsing, e-books, video chat, and note-taking with the iPad. The legendary design of the Apple devices combines beauty and simplicity, and uses an intuitive interface to mask the sophisticated operations going on underneath sleek surfaces.
Healthcare Complexity
This month's e-update "Improving Efficiency of Medical Technicians" features a project which may not be as stylish as something from the design wizards at Apple, but is equally effective and popular with users. Our client is in a complex industry, one with many arcane rules, practices, and interrelationships — health care. If you're like me, it's hard to keep straight on all the copays, deductibles, maximum annual out-of-pocket, in-network and out-of-network provider and reimbursement rules, preferred providers, and the like — and that's just the financial aspects of health care, not the care itself!
Our client's medical technicians are tasked not only with performing tests, but also being the "face of the company" to patients. They function very much like "Customer Service Representatives" in other companies. Having to be able to answer frequently requested inquiries and to process various types of payment transactions is expected. Gathering appropriate information for several different types of systems, and accurately entering this information, is tedious and error-prone, and takes time away from the patient.
Designing Intuitive Healthcare Applications
Designing and developing an application which is intuitive for the technicians, yet simplifies collecting information and passing it along — automatically and invisibly — to the required systems, was no small task. So don't let the simple appearance of this project fool you — we worked very hard to make things as simple as possible for our client's personnel. An elegant design masks some very complex processing and operations, as it should.
Todd L. Herman
Read more on the benefits of an application design and development project.
---
Case Study: Improving Efficiency of Medical Technicians
Situation...
Over the years, the scope of tasks handled by medical technicians has increased. Where once these technicians may only have performed a specific procedure or test in line with their training, now these individuals serve as the public face of our client, and thus also function as customer service representatives.
Problem...
As insurance plans have become more complex and payment options have increased, it has become harder for technicians to process all this — and also satisfy the patients they serve. Patients have come to expect more, because of payment options available in other venues and a general expectation of sophisticated technology in the health care system. Our client's technicians had to use four systems, often with duplicated data entry, to properly transact a procedure or test.
Solution...
We developed an application to integrate components of three of the four systems used by the technicians, which also simplified, sped up, and error-proofed data entry by various techniques, including:
A simple menu and screen structure, coupled with online help, provides an intuitive workspace for the technician.
A unified data entry screen, with appropriate lookup and validation in each field, keeps things simple.
A credit card reader allows a patient's card to be swiped, both speeding up and increasing the accuracy of information required for payment.
Transfer of information from the data entry screen to the other systems occurs out of sight, once the technician presses the "Submit" button.
While the application appears simple, this belies the sophisticated technology operating "behind the scenes," to securely obtain approval of the credit card payment, set up the payment transaction for integration with the main financial system, and create an invoice for the procedure or test.
The various screens below are designed to present everything the medical technician needs to handle payment processing options.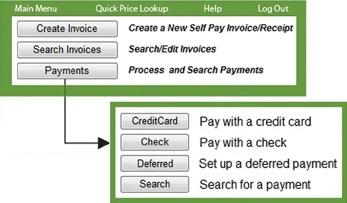 Above, invoices and receipts can be created, searched, and edited.

Payments can be accepted by credit card and by check. For checks, the routing number and account number are collected and entered to allow processing as an ACH (Automated Clearing House) transaction.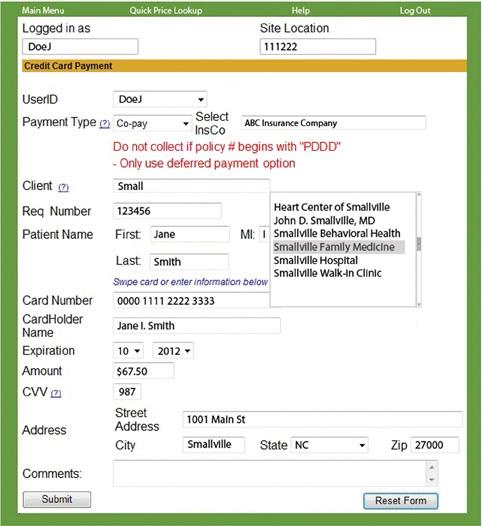 Above, several nice touches make the technician's job easier, including:
Selecting the "Payment Type" from the available choices prominently displays any special instructions associated with the insurance carrier.
Typing in the "Client" field allows a search engine-like lookup of information by client number, client short name, client full name, or any portion of these values. Behind the scenes, the keystrokes are processed against the complete set of values. Once the type-ahead returns a manageable number of results — typically 12 or fewer — they are presented to the user for scrollable highlighting and selection, as shown in this illustration.
Swiping a card presented for payment collects, parses, and enters the information into the appropriate fields on the form, regardless of the user's position on the form when the card is swiped.
Results & Benefits...
Medical technicians can now properly process payment transactions from patients, and immediately respond to their requests for invoice and account balance information. This is done more easily and quickly, with fewer errors. These process improvements benefit all parties involved — the patient, the medical technicians, and our client.
The major business benefit of this project comes from reduced uncollectible accounts. Because of the pricing of health care services and the complexity of health care financing, it is hard for patients to understand what they should be paying for their health care. When a patient receives a bill long after the service is rendered, he or she might conclude this has already been handled by insurance. This project enables a co-payment to be collected — or, in some cases, a deferred collection of a co-payment to be agreed to — at the time of service. In either situation, our client is now able to collect many payments which would have previously been written off as bad debt.
Conclusion...
Using technology to improve processes — through simplification, error-proofing, and integration — has helped our client's patient-facing staff perform their jobs better. Time has decreased and errors have been reduced — and both these benefits have reduced the cost of this processing. Most importantly, the technician can now have more time dealing with the person who ultimately needs to be satisfied with the experience — the patient.
For More Information...
To discuss how technology usage and business process improvements could be applied to the issues facing your business, call us at 336.297.4200 to schedule a no-obligation consultation, or click here to contact us online.