The Goldilocks Strategy
Finding a system just right for your needs.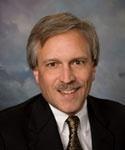 This case study focuses on a new project for a long-time client featured in a previous case study (see Build vs. Buy vs. Both).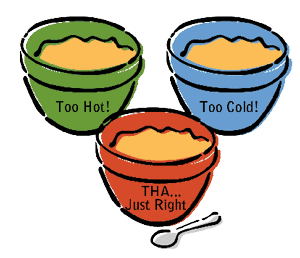 Interestingly, in both this project and the previous one, our client employed what I call a "Goldilocks Strategy" for choosing their approach.
Customizing Your System
In the first project, we worked with our client to find a vendor having a business system which perfectly met the needs of one line of business, and mostly met the needs of a second line of business. Fortunately, the vendor we identified was also willing to customize their system to precisely meet our client's needs for the other line of business. They provided the base technology and programmer, and we provided the design and project management talent. Not too costly, not many compromises in functionality — just right for our client.
For the current project, our client needed to significantly improve their ability to perform project estimates. Such estimates are critical to not only winning jobs, but also to ensuring the company's profit and cash-flow goals are met. Bid too high — lose the job. Bid too low — lose your shirt. The goal is to bid just right.
Rule Out What You Don't Want
Our client had already ruled out low-end estimating packages — they lacked necessary features, such as the ability to audit and approve deviations from company-approved estimation methods, collaboration of multiple personnel, and integration with the estimated business system.
Our client had also eliminated using an estimation module from an industry-specific Enterprise Resource Planning (ERP) system — such a module would have needed other modules from the ERP suite to function properly, pushing the cost of this approach beyond our client's budget.
Balancing Functionality & Cost
Our client's ultimate decision? Just as they do with their bids, they used a "Goldilocks Strategy" for their estimating system needs — they found an approach balancing functionality and cost. They retained us to design and manage this custom system development effort, and retained the same programmer who coded their current business system.
The end result? A system that was just right for their needs — software providing the right level of functionality at the right price point.
Todd L. Herman
Read further about the benefits of a System Implementation Project.
---
Case Study: Designing and Managing Custom Development of Estimating Software
Situation...
This multi-location structural steel fabricator needed to improve its estimating capabilities, which have historically been done using manual worksheets using highly experienced personnel, requiring thousands of calculations to estimate even moderately-sized jobs, such as an elementary school.
Problem...
This process made job estimates time-consuming, labor-intensive, and subject to detailed review to ensure accuracy. Over the last several years, quickly producing accurate estimates became more critical to business success, because the drop in construction activity — both residential and commercial — has made this industry even more competitive.
No off-the-shelf package met the needs of our client — low-end packages lacked needed functionality or integration capabilities, and high-end packages were modules of full-blown industry-specific ERP (Enterprise Resource Planning) systems requiring other modules for proper functioning.
Solution...
We met with our client's estimating personnel, thoroughly understanding not only how they currently performed their estimates, but especially how they wanted technology to improve the overall process. The biggest improvements:
Drawing part information, including standards, weights, and most recent cost, from their business system.
Automating estimation formulas, taking into account factors such as the type and complexity of operations, the number of repetitive techniques and processes, including non-linear adjustments based on material properties.
Furthermore, we helped client personnel clearly envision how the new process and technology would work, before creating detailed specifications to send to their software developer.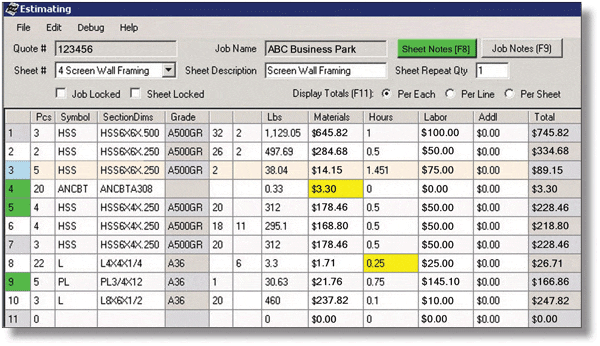 An estimator develops a quote from detailed drawings provided by the contractor — each sheet on the quote matches a page from the drawings, and each line item matches a piece on the page. The estimator uses picklists to select the appropriate inventory item, and enters the length and quantity of pieces required — the program calculates required pounds. Users can toggle how totals are displayed. Colors provide an audit trail:

Green shading of a row number or action button — Detail notes exist at the row, sheet, or job level.
Yellow shading of a Materials or Hours cell — A calculation or default value was overridden.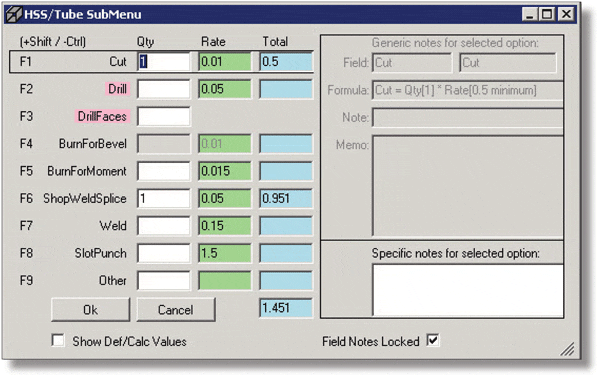 Each piece requires at least one fabrication operation. The system uses built-in formulas to apply company-wide standards, including a minimum number of hours to allow for setup.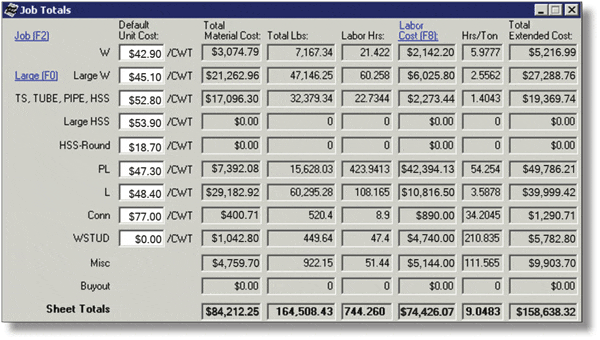 The estimator can adjust the default cost per hundred-weight (CWT) by product type, allowing the job cost to be quickly revised for changed prices in the steel market. This high-level summary allows an effective "reasonableness review" of the entire job.
Results & Benefits...
Our client can now:
Apply a single estimation methodology to simplify and improve bid analysis, accuracy, and competitiveness.
Ensure consistency and accuracy among job estimators by automating calculations and enforcing company-stipulated controls.
Collaborate on project estimates, using experienced personnel providing oversight and guidance to newer personnel creating the detailed job estimates.
Respond quickly to prospects in the highly competitive commercial construction environment.
Know pricing calculations are accurate for many complex parts and processes.
Pinpoint and sign-off on all overrides to the system-calculated estimates.
Maintain tight control of pricing in an exacting industry.
More job estimates are being prepared, more quickly and accurately, than ever before.
Conclusion...
In a competitive environment, we were able to help our client leverage their personnel and existing technology investments to deliver a mission-critical application for about the same investment as an estimating module for a full ERP system — without needing to invest in other modules necessary to implement a single application.
Identify if you need a customized application or system to better manage your business.
For More Information...
To discuss how technology usage and business process improvements could be applied to the issues facing your business, call us at 336.297.4200 to schedule a no-obligation consultation, or click here to contact us online.