Investing vs Spending
What's the difference between "investing" and "spending"? From the perspective of current cash outlays, nothing is different — yet, taking the long view, there's a great deal of difference. It's hard, running a small business. If you're growing, your cash flow is tight because your cash hasn't caught up with your growth — if you're shrinking, your cash flow is tight for different reasons.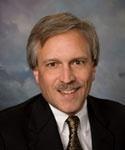 It's hard, running a small business. If you're growing, your cash flow is tight because your cash hasn't caught up with your growth — if you're shrinking, your cash flow is tight for different reasons.
In a small business, it's hard to find that "sweet spot" — where you are in good control over your business' operations, finances, and business development. This is especially true in a highly regulated and ever-changing industry like health care.
This month's case study features a client who had a triple whammy — a small business that was growing, working in the health care industry, and staring at having to comply with a new Medicare regulation in just under 2 months. Our initial task was to develop the processes and systems to ensure they would be compliant with the new regulation.
Initially, it seemed this would be a "one and done" client — deliver this single project (which we did) and that would be it. Instead, additional requests kept coming, all with the objective of making the business run better and be more controllable.
To me, that first project was "spending" — throwing money at a problem to make it go away. Yet, the later projects turned to "investing," since all the projects built on top of each other, thanks to the foresight of our Senior Consultant on this client.
This month's case study is about one of those later projects, improving the productivity of our client's pharmacists. We estimate the cost of this project paid for itself in just under two months — AND the estimated first year savings for this ONE project MORE than paid for the ENTIRE series of projects!
Remember, when you're in the middle of things, it's hard to distinguish "investing" versus "spending." Frankly, our client was skeptical about this distinction while the system was being developed, and I can't blame them — they were growing, cash was tight, and our fees just made cash tighter in the short run.
Still, in the end, the system was completed, cash stabilized, and the pharmacists' productivity is now 5 TIMES their original levels. When your most expensive resource — your pharmacists — is also your most constrained resource, you need all the productivity you can get.
How about you? What's your most expensive resource? What's your most constrained resource? How are you consciously thinking about your resources and deliberately looking for ways to improve productivity?
If you're not dealing with these questions, then you're "spending" when you should be "investing."
For everyone who's "spending" instead of "investing" — you and I really need to meet, and let's discuss ideas to improve productivity and generate some hard-dollar benefits for your business.
Sincerely,

Todd L. Herman
Case Study: Improving Pharmacists' Productivity by 400%
Situation: Fast Growth Caused Outgrowth
Our client provides pharmacy benefits management services to hospices. These services include:
• Accepting new patients and their medications.
• Having a pharmacist review these medications for necessity, efficacy, coverage under the Medicare hospice benefit, and drug
combinations having undesirable side effects not anticipated by doctors.
• Registering patients and medications with a prescription clearinghouse, enabling patients to begin receiving their
prescriptions at any pharmacy nationwide.
• Reporting medication usage, costs, and other statistics to the hospice.
Opportunity: The Chance to Do Things Right
Our client was experiencing rapid growth, which caused a major problem — their pharmacists could not keep up with the number of reviews required for new patients, let alone updated reviews of existing patients periodically requested by the hospices.
As a stopgap measure, our client retained contract pharmacists to help process the backlog — however, this was neither a desirable nor affordable long-term solution.
Solution: Building a Solution Focused on Efficiency & Effectiveness
After analyzing the pharmacists' processing and time required for each step in the process, we believed we could cut out over 50% of the current time being spent. In numbers, it took about 10 minutes for a pharmacist to get a patient folder, review the list of medications, hand-write review notes, and then physically fax the review to the hospice.
We focused on ways to take time out of every step in the process, by embedding improved processes into a custom-developed application.
• Pharmacy technicians now enter the patient information and medications into the system, using source documents from
the hospice. This information is then placed in a queue for review.
• Pharmacists work the queued items in order, with all the necessary information presented neatly on screen.
• The system has "learned" and stored the most frequent comments for a specific drug, and retrieves and populates them as
the pharmacist begins typing.
• The pharmacist marks the review as completed — the system then immediately archives the review in PDF format.
• The pharmacist can press a button to review the PDF, and press another button to have it faxed electronically to the
hospice.
• A final button permits the pharmacist or pharmacy technician to send the patient and medication information to the
prescription clearinghouse.
Pharmacy Benefits Management System Input Screen


Pharmacist Review As a PDF
The new system presents the user-selected medication list for the pharmacist's review. All medications are shown, as well as vital information on the patient and the diagnoses.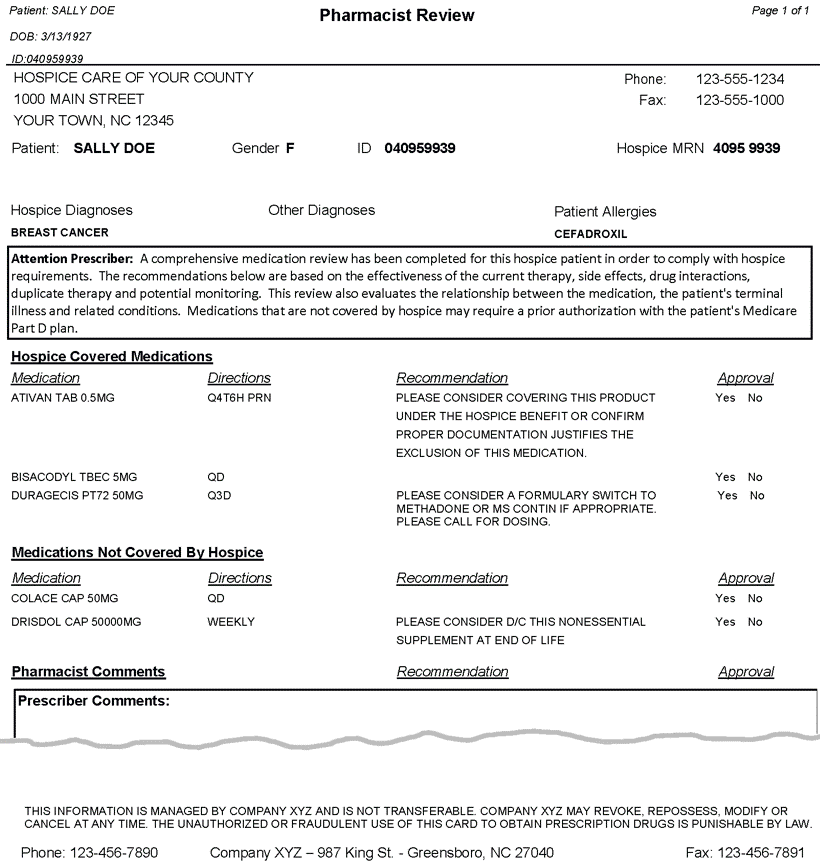 Results & Benefits: Streamlining the Most Expensive Process
Our single-minded focus to reduce time for the pharmacists yielded impressive results — what had taken 10 minutes per review now takes about 2 minutes, for an 80% reduction in time. Furthermore, the process improvements and technology usage significantly reduce the chance of errors and provided detailed audit capabilities.
The simplicity of the pharmacy review screen belies its power — and its cost savings. Just this one feature yielded about $140,000 savings in the first year. As volume increases in future years, the savings will increase even more.
Conclusion: Fast Growth Now Easily Supported
Instead of completing patient reviews by hand, our client's pharmacists can now do it electronically with
• greater accuracy,
• more detailed review notes,
• in a fraction of the time, and
• with an audit trail of work done and reviews faxed.
The first-year savings attributed to this single screen more than paid for the entire project.